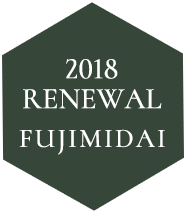 With three new special room types and a private open-air bath, Sansuikaku's 2019 renewal renovation offers a whole new experience.
Unfolding Before You,
The Passion of the Japanese Garden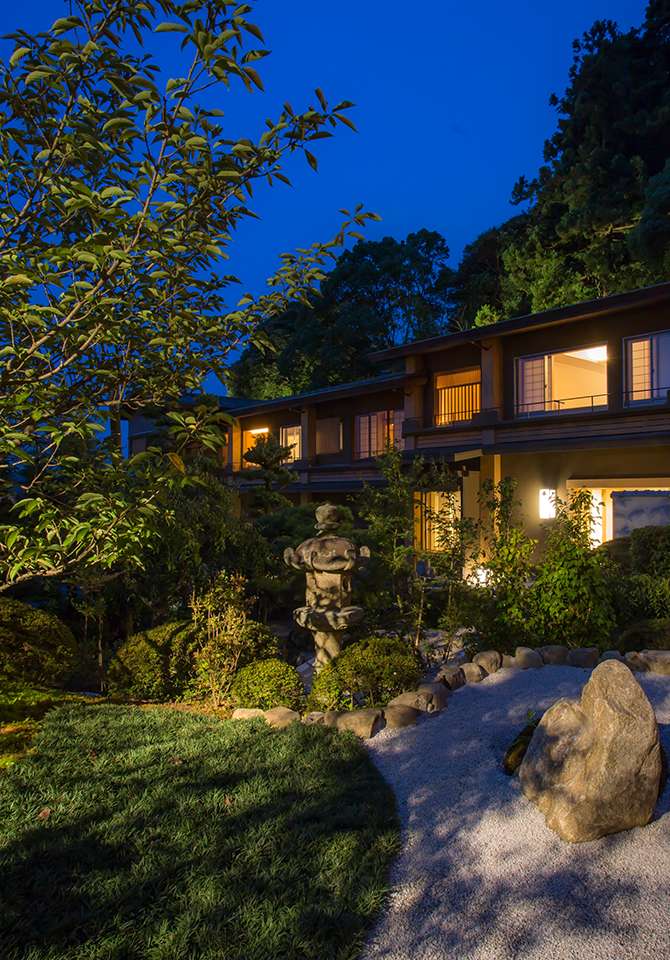 Sansuikaku's large windows bring nature indoors, and the seasons seem to unfold right before your eyes.
Renovated in 2019, Sansuikaku's exterior gives a new, refreshing take on the traditional ryokan. With an expanded, open entryway, the garden melds into the architecture and invites nature indoors.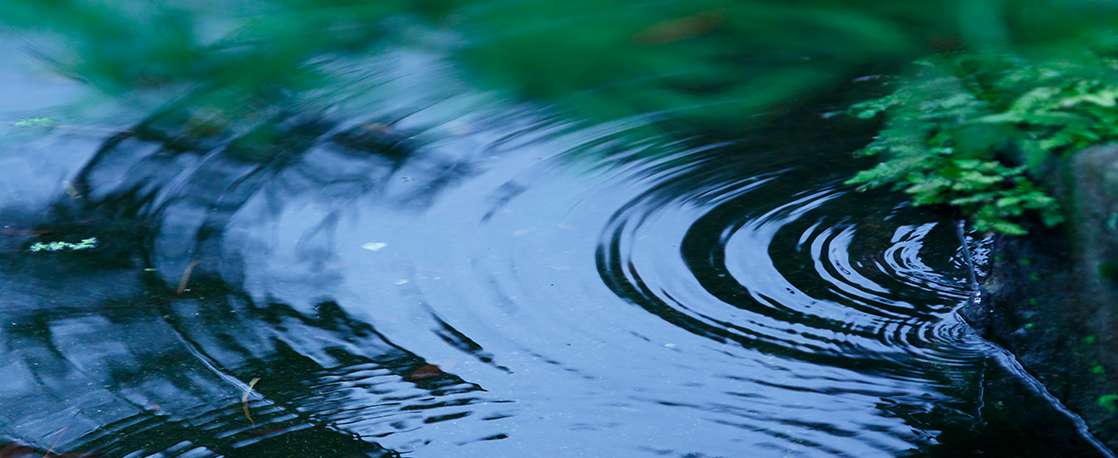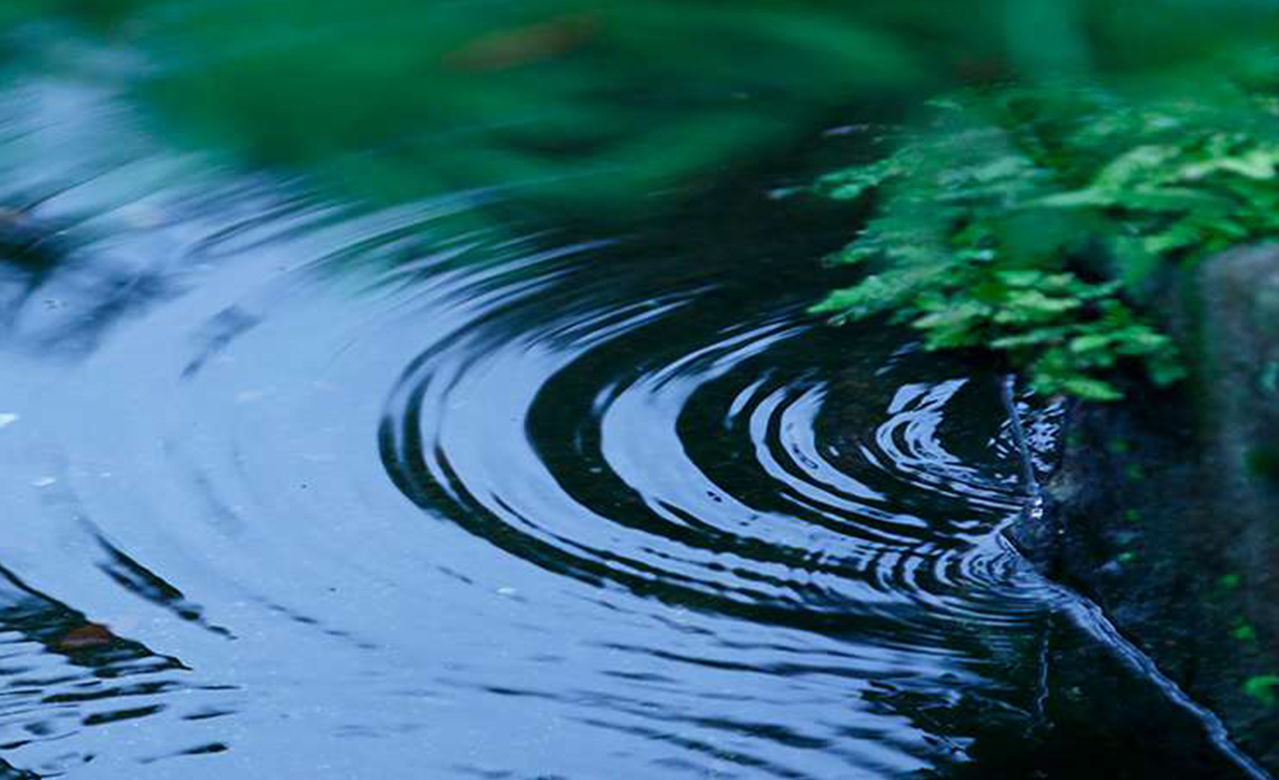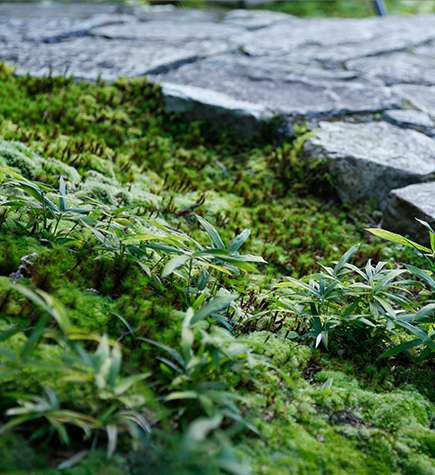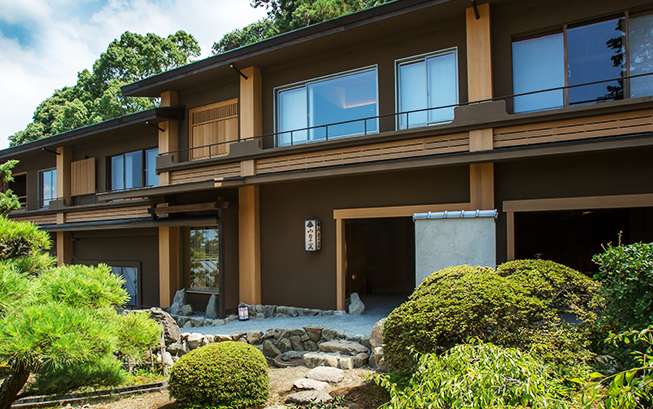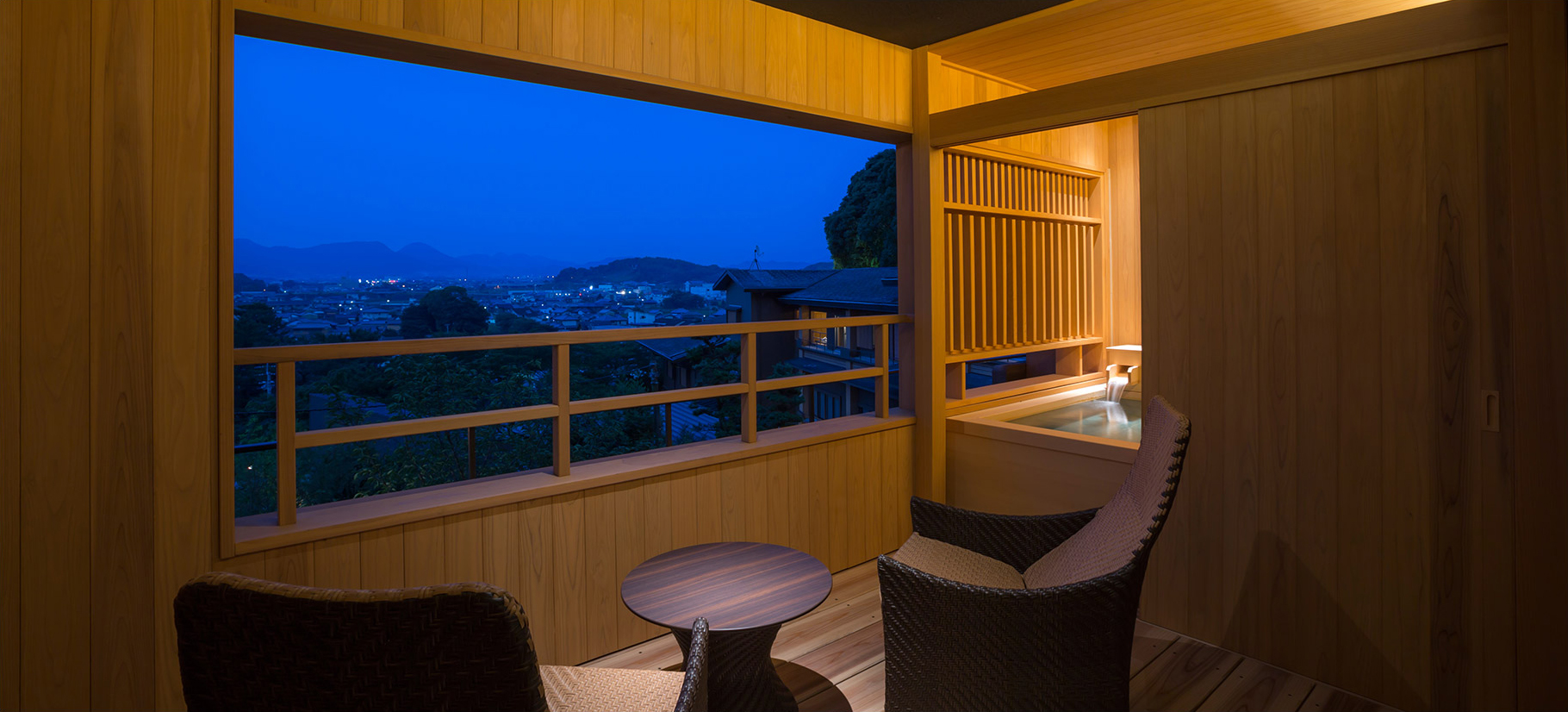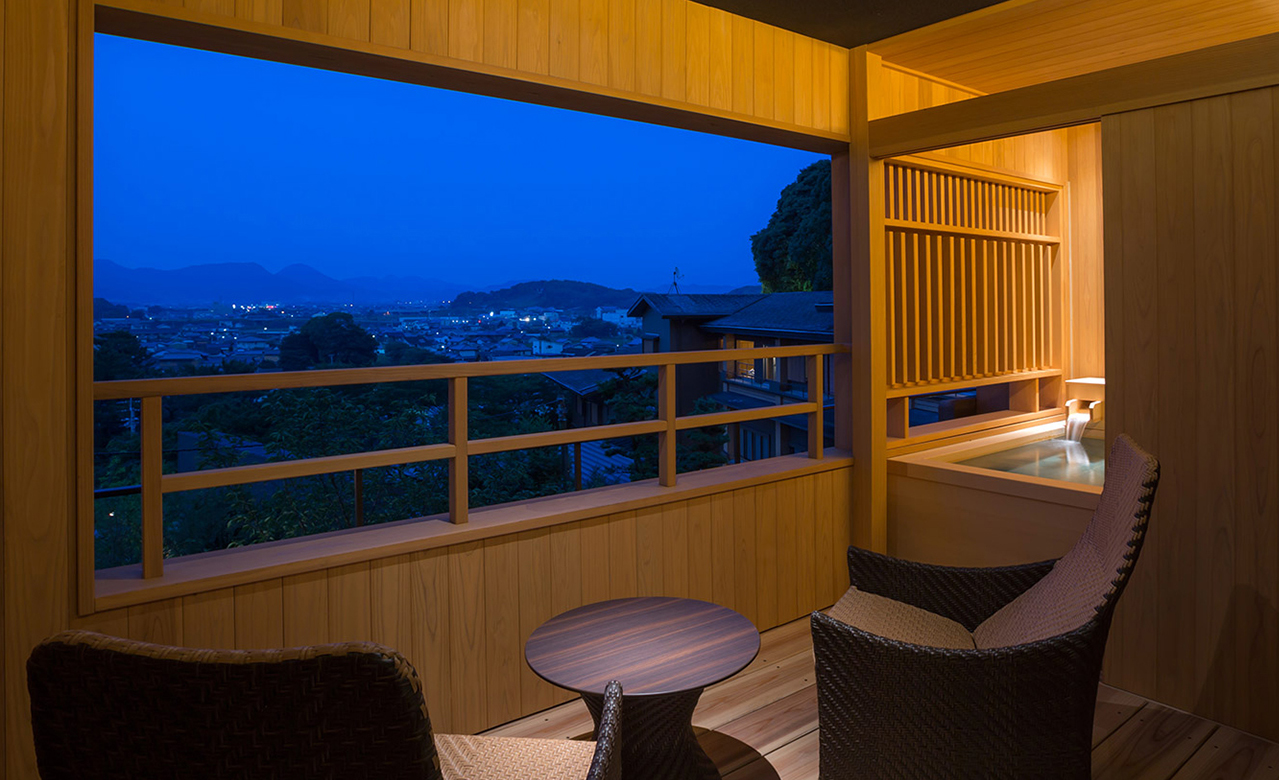 A personal
"Konpira Onsen"
in comfort
and privacy
New Japanese-Western rooms with open-air baths also bring a sense of harmony with the outside world.
For even greater comfort, Sansuikaku's Standard Rooms have also been fully renovated; a private, reservation-only onsen spa has also been built exclusively for guests of Sansuikaku.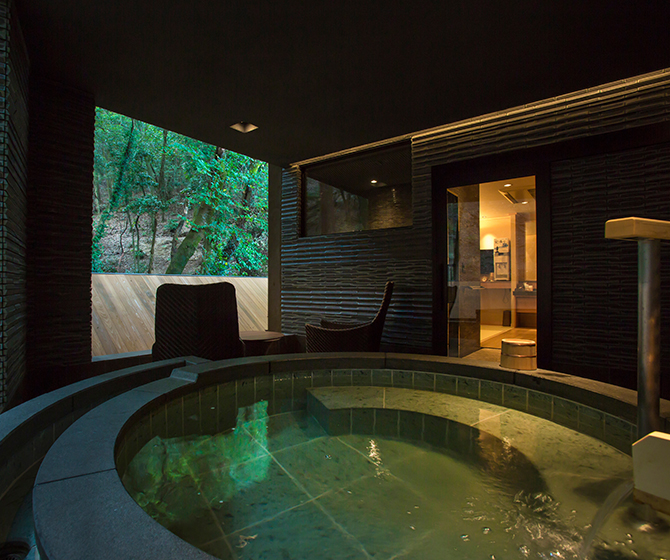 premium room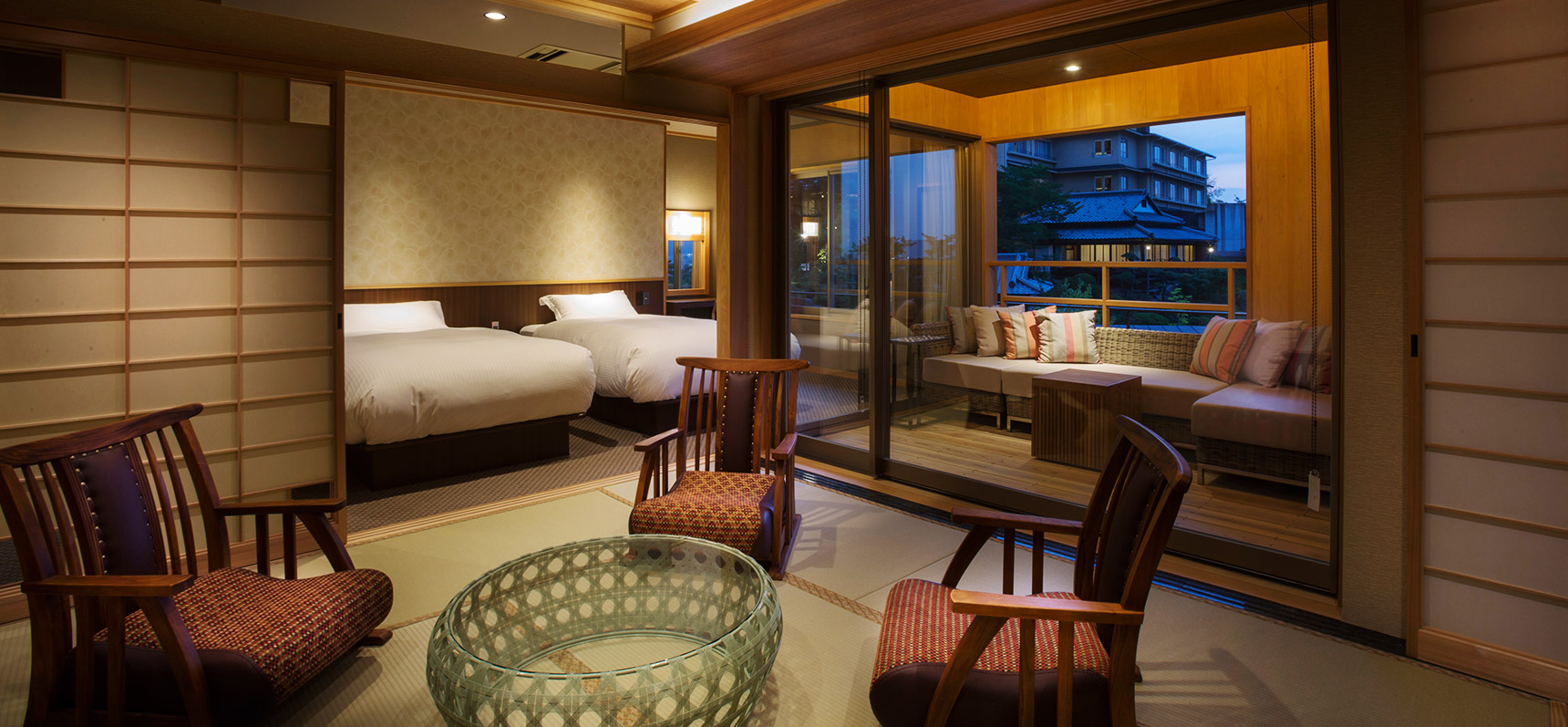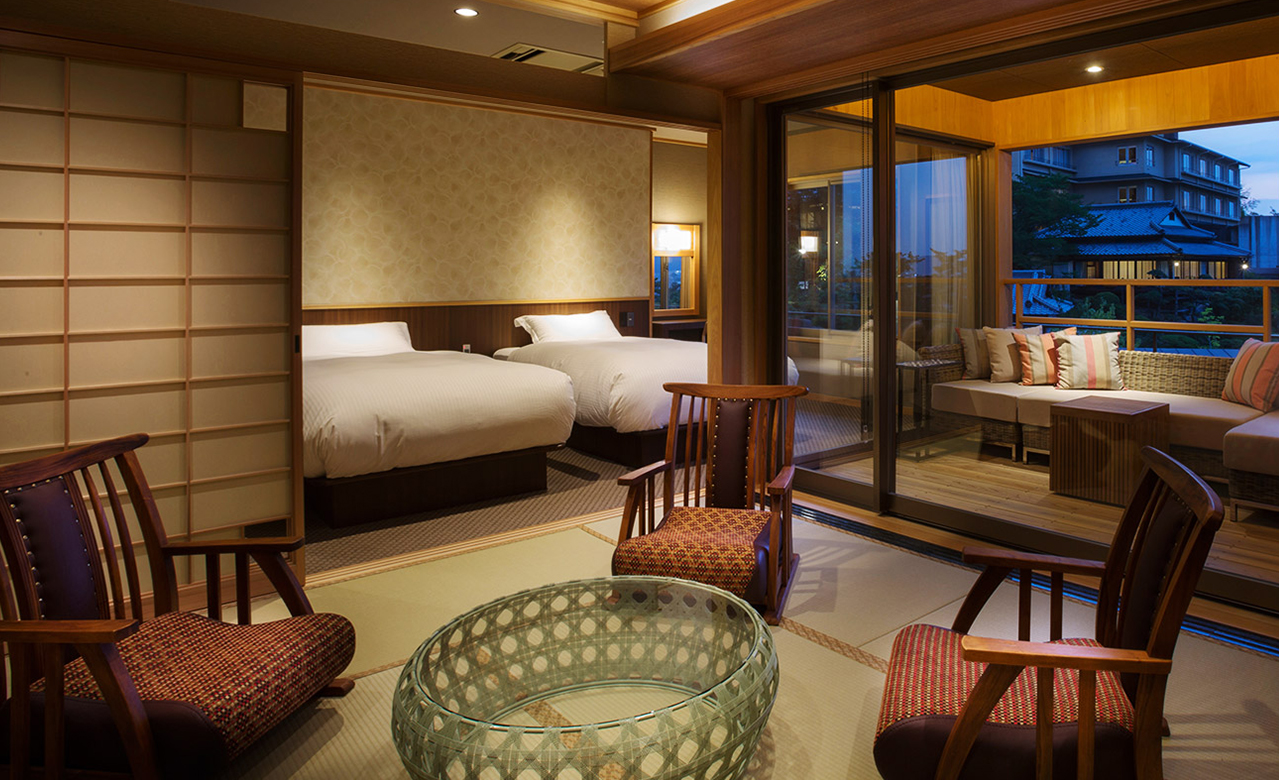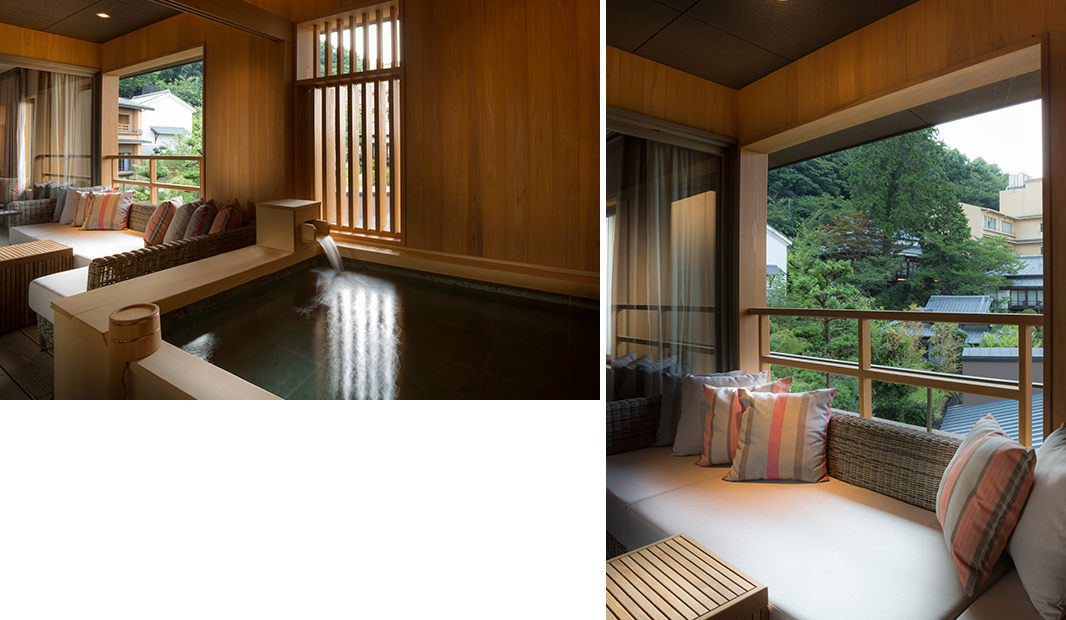 Japanese-Western Room with open-air bath Type A
Large windows facing the Japanese garden lend a sense of timelessness to the view from a Type A room. Warm interior colors and tasteful Japanese modern furniture invite quietude. The comfortable chairs on the terrace encourage guests to linger outdoors and enjoy the open-air bath.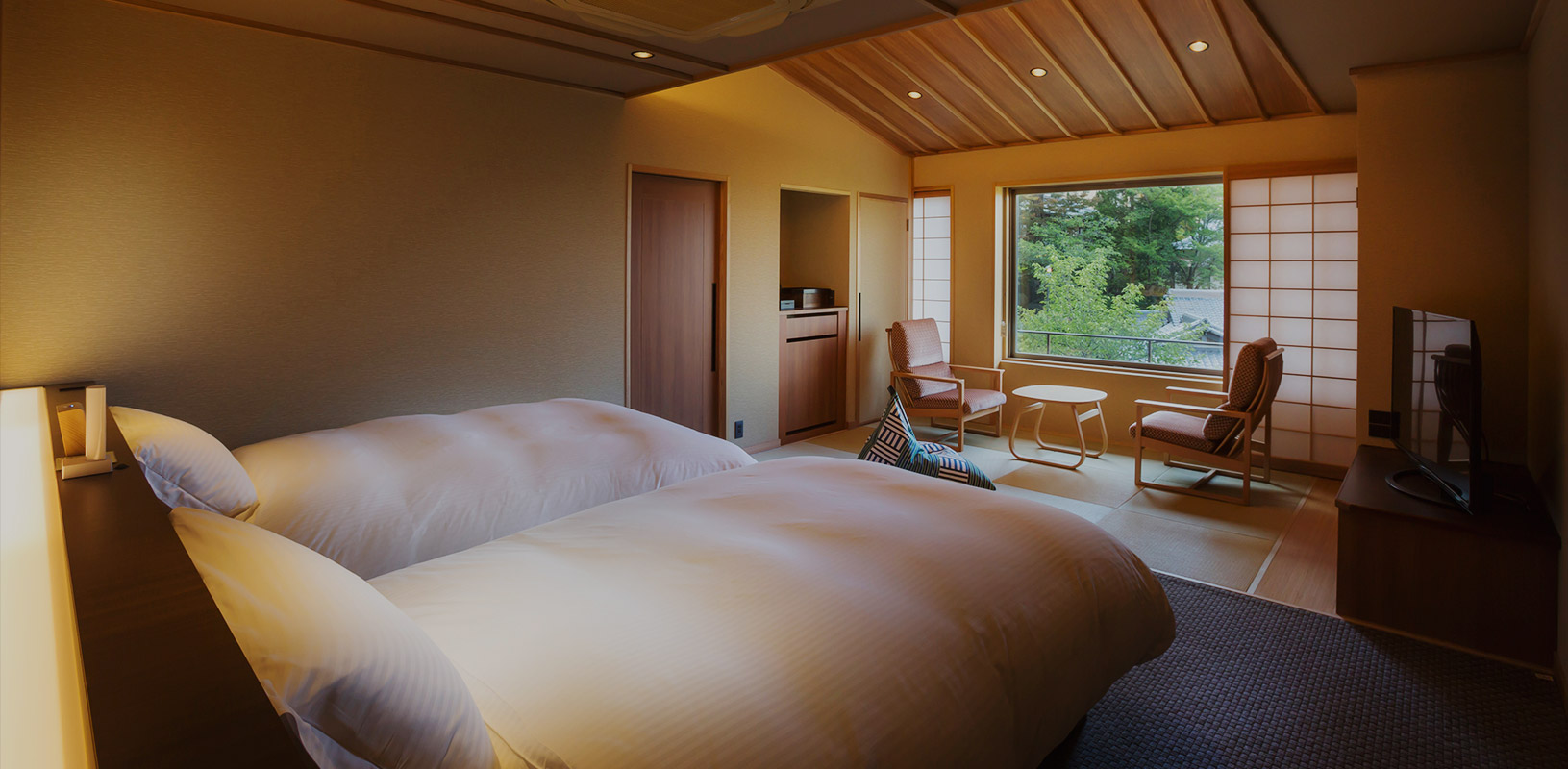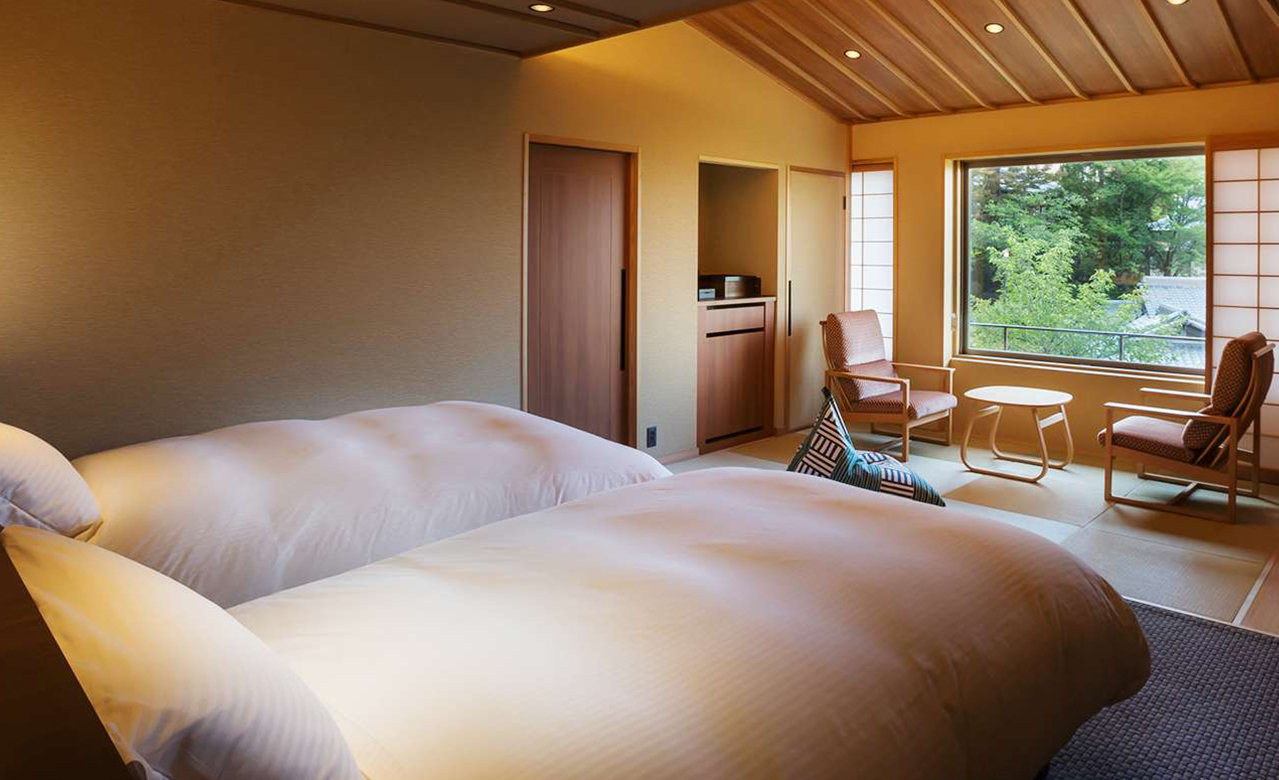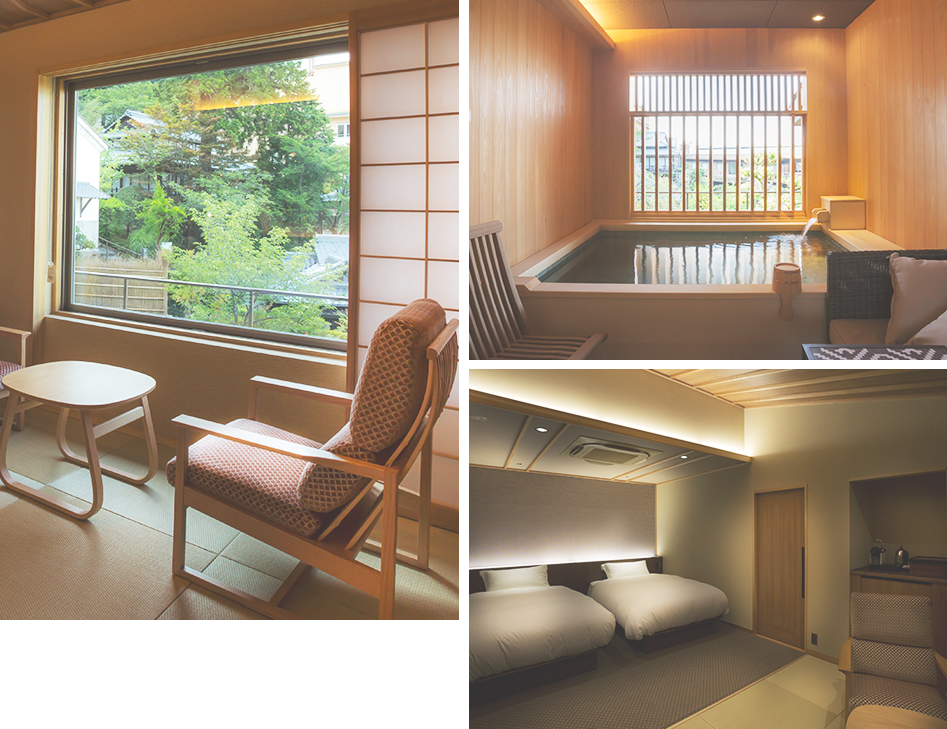 Japanese-Western Room with open-air bath Type B
A Type B room invites guests to indulge with a long soak in the impressive 2m-long tub. Interiors maintain a sense of Japanese tradition with all the convenience of Western spaces. Unwind while gazing out over Kotohira Kadan's beautiful garden and witness the beauty of Japan's seasons.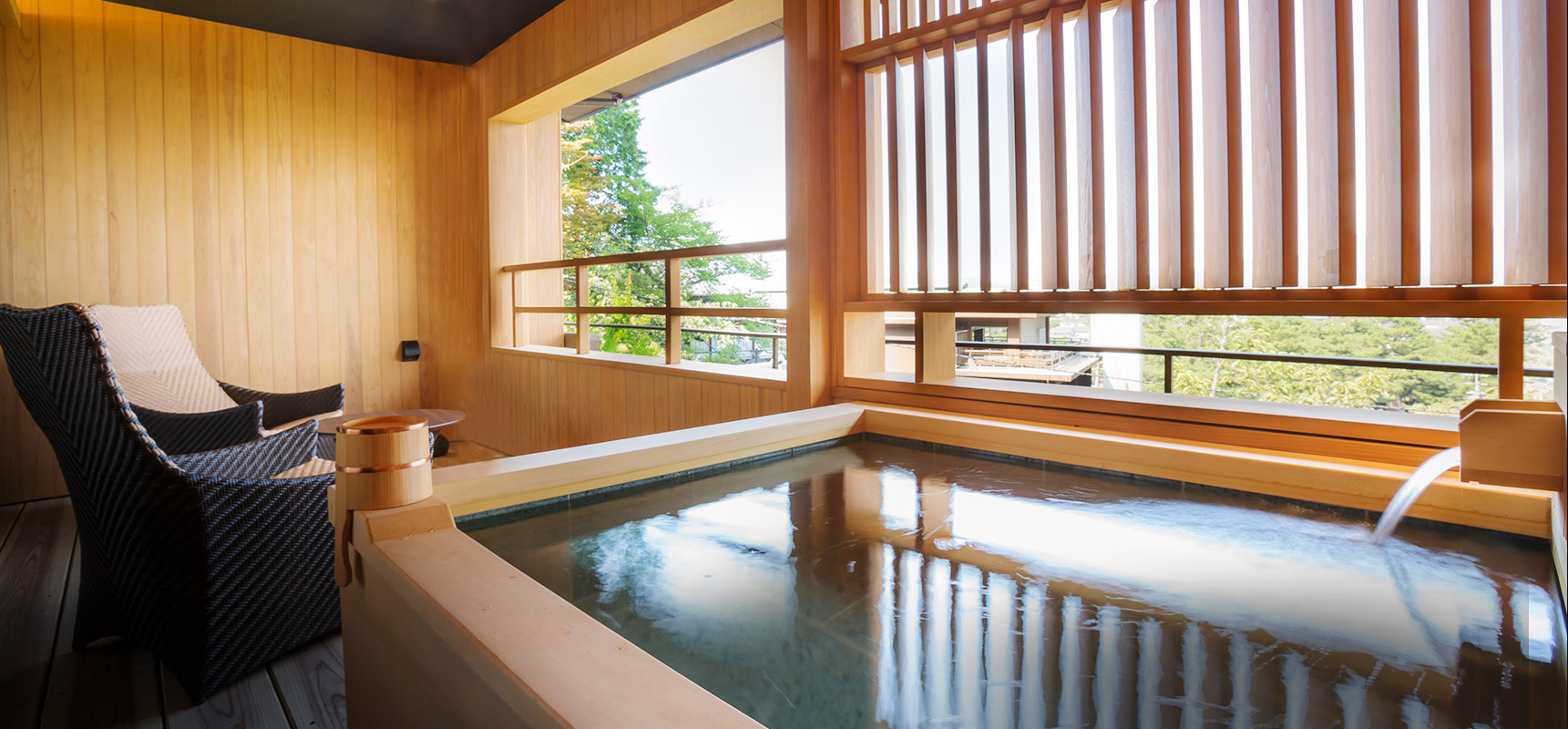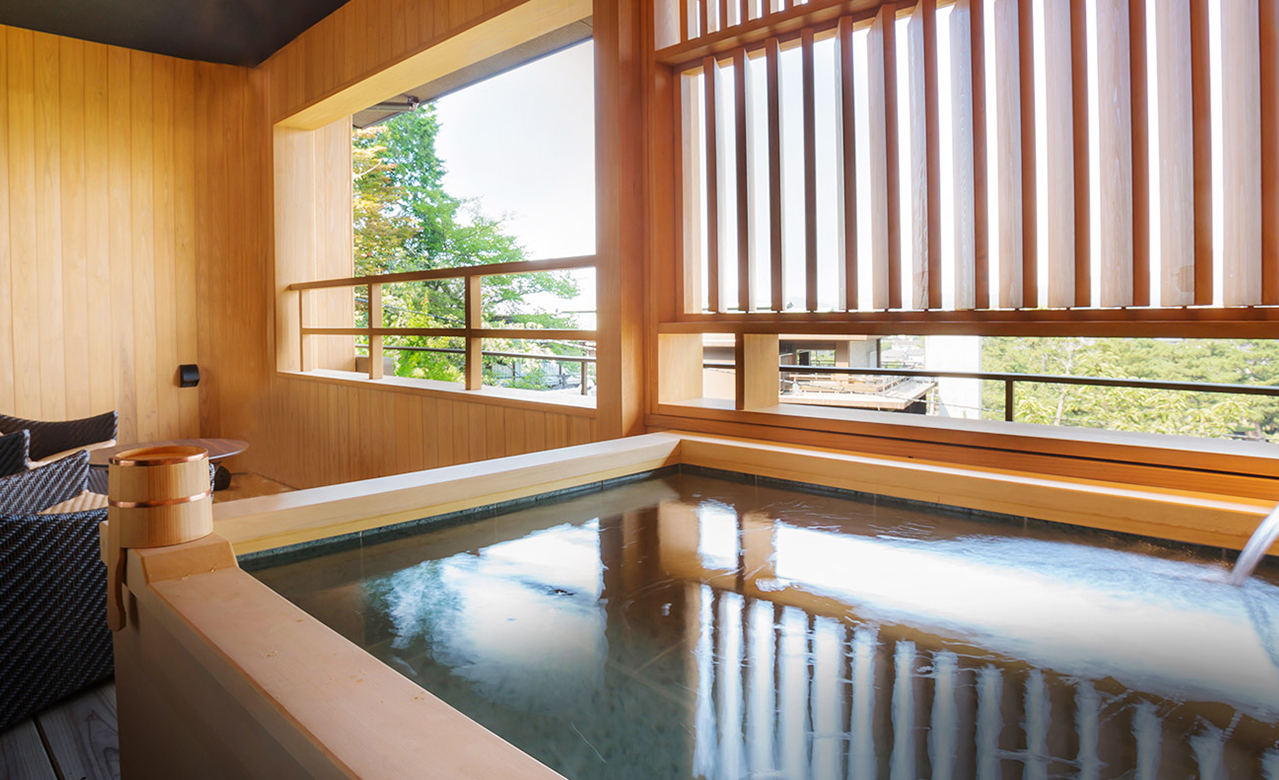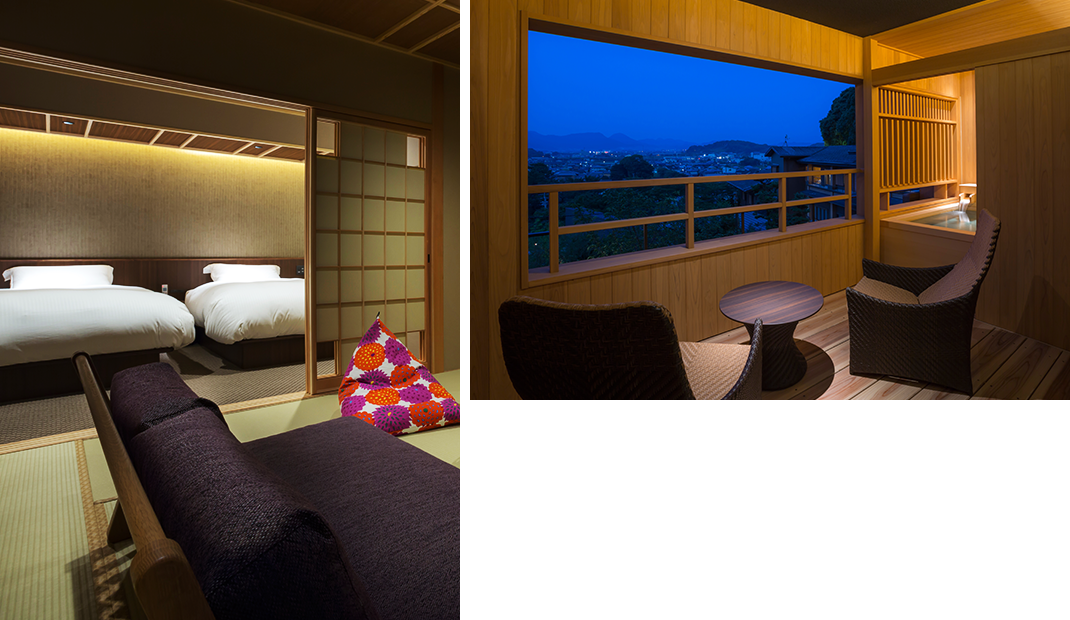 Japanese-Western Room with open-air bath Type C
Gaze out over the Sanuki Plains and Asan mountains from the spacious terrace in a Type C room. With an open-air bath and comfortable outdoor deck chairs, the breathtaking view beckons. A low sofa complements the Japanese-style interior, and cozy beds invite deep rest and rejuvenation.
Standard Room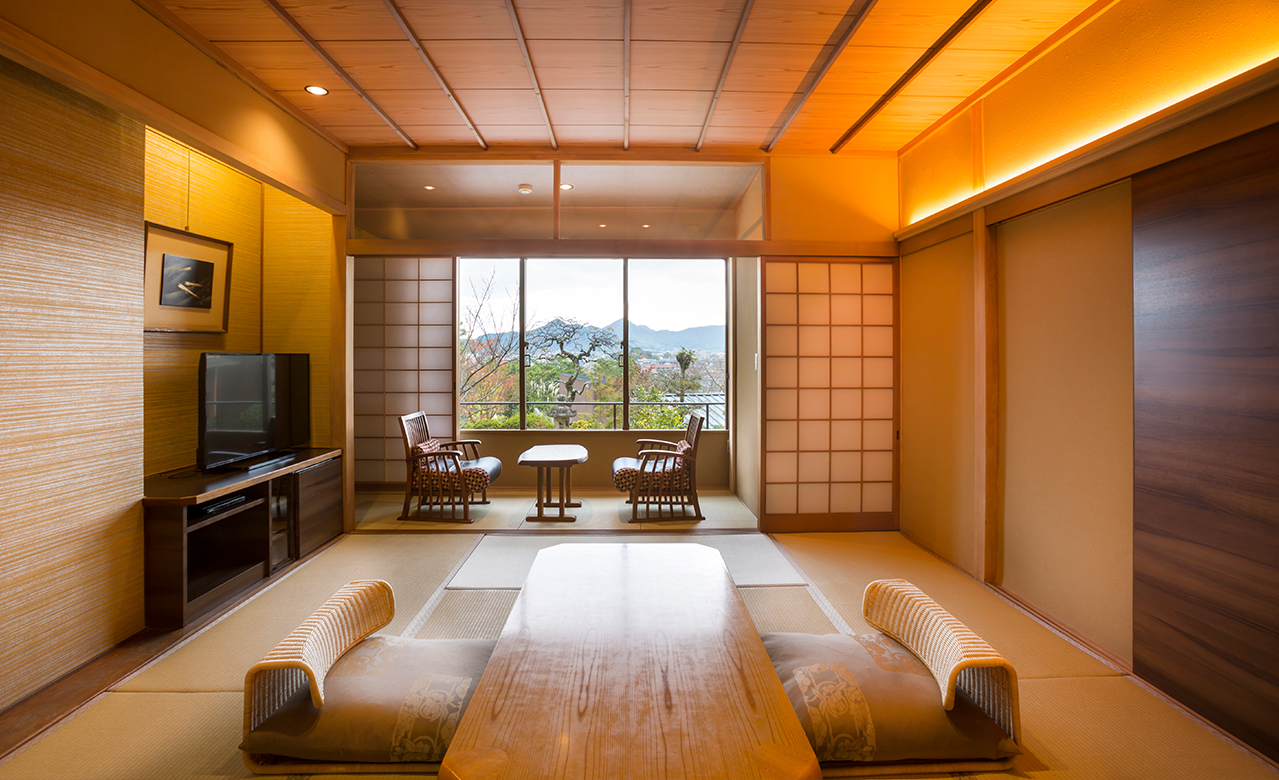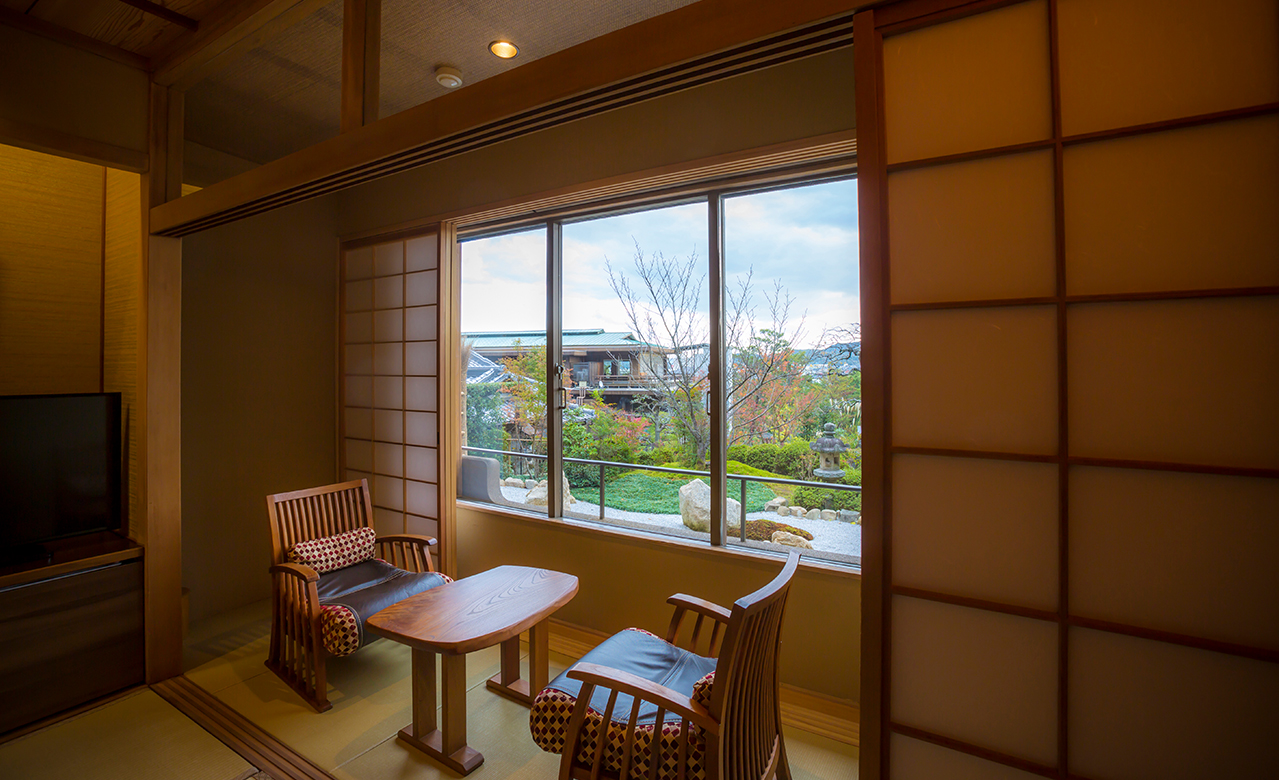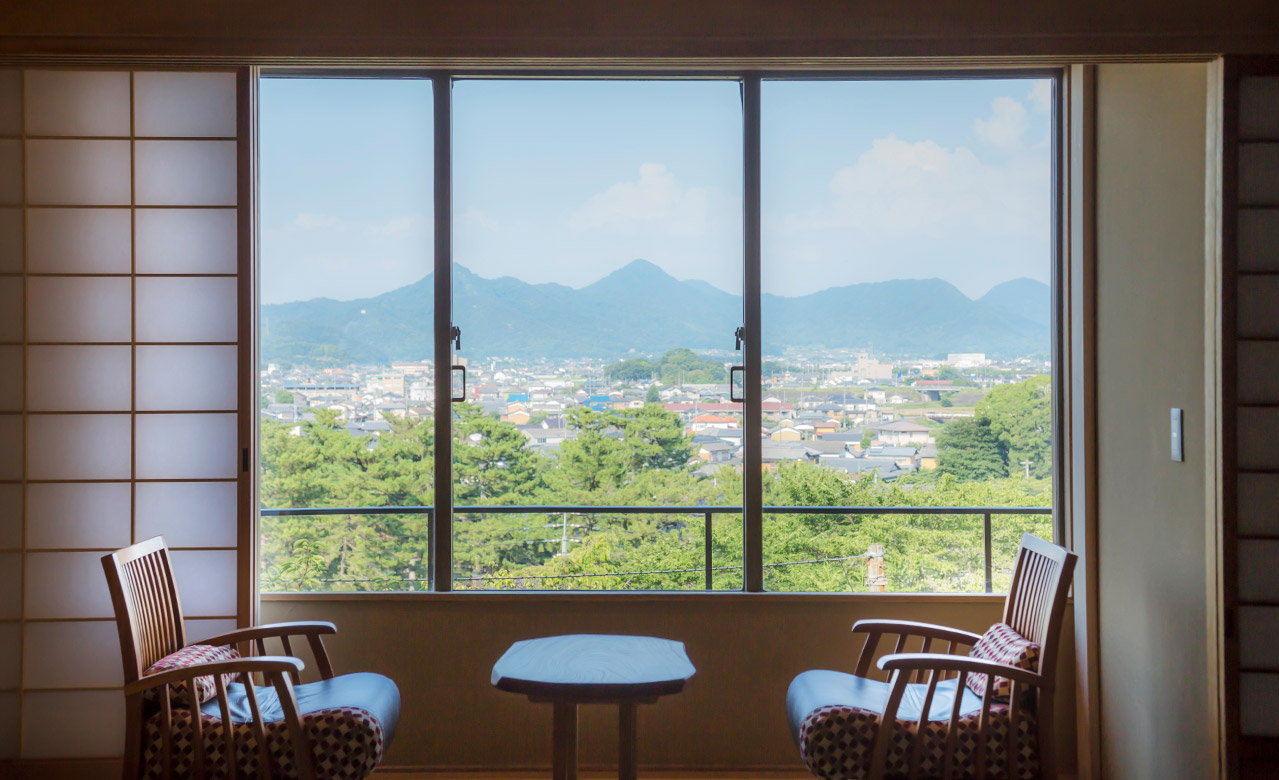 Japanese Room
The Sanuki Plains and Asan mountains unfold like a painted scroll from the windows of Sansuikaku's Japanese rooms. Nature has been a vital part of daily life in Japan for centuries, and its rhythms and sounds create a soothing harmony just beyond the pane.
Private Open-Air Bath Mori no Yu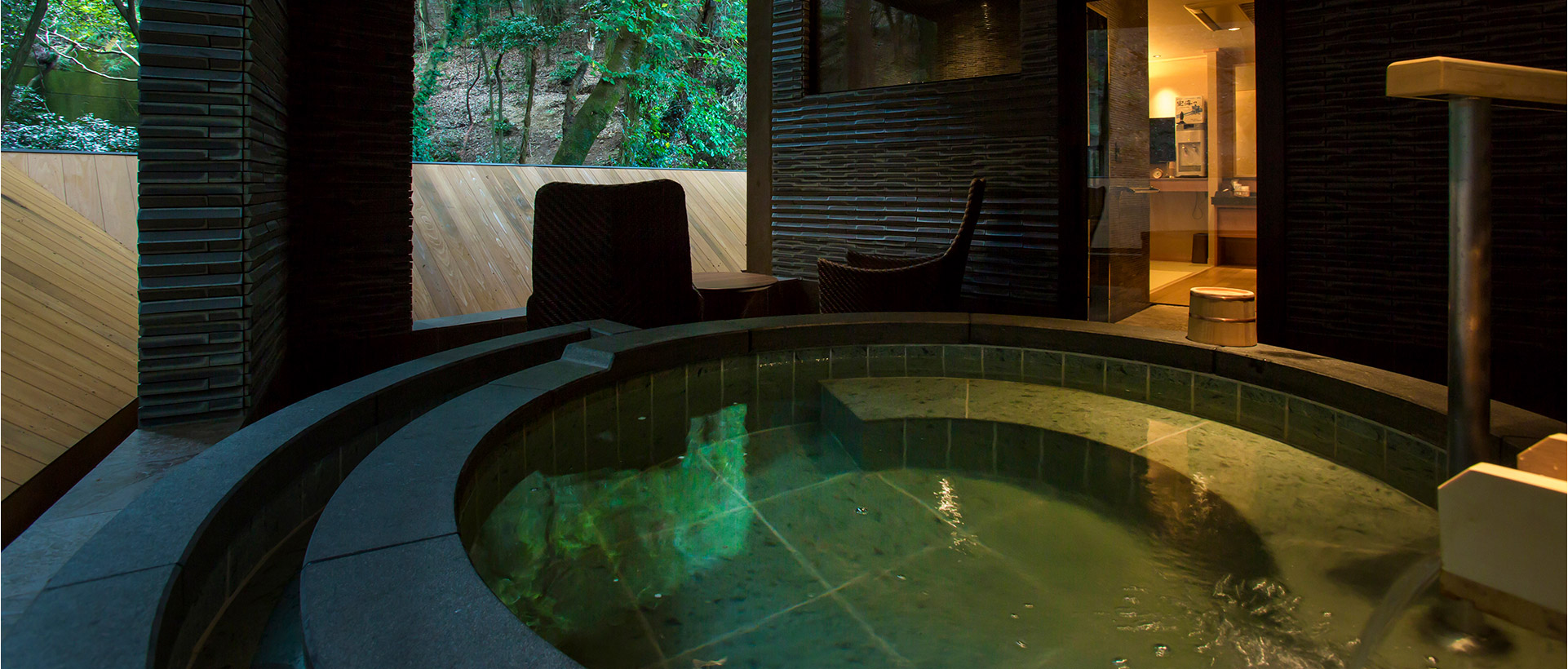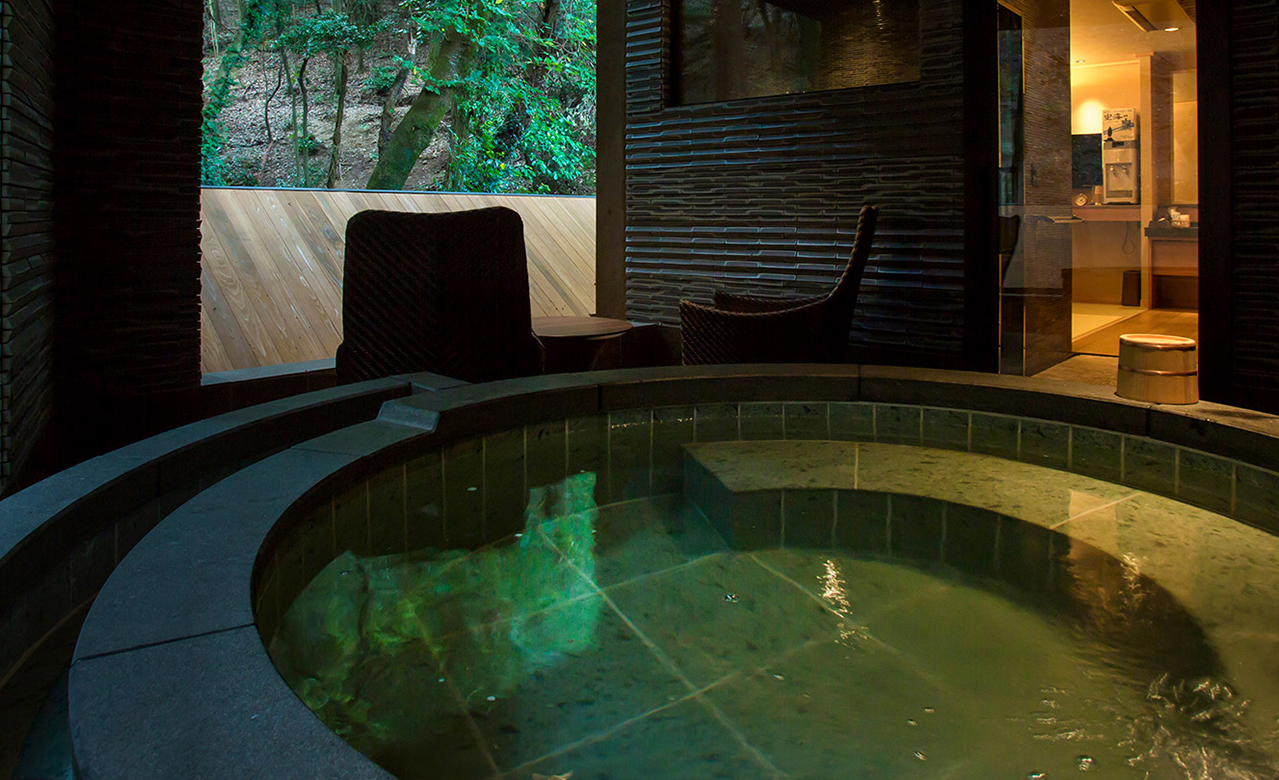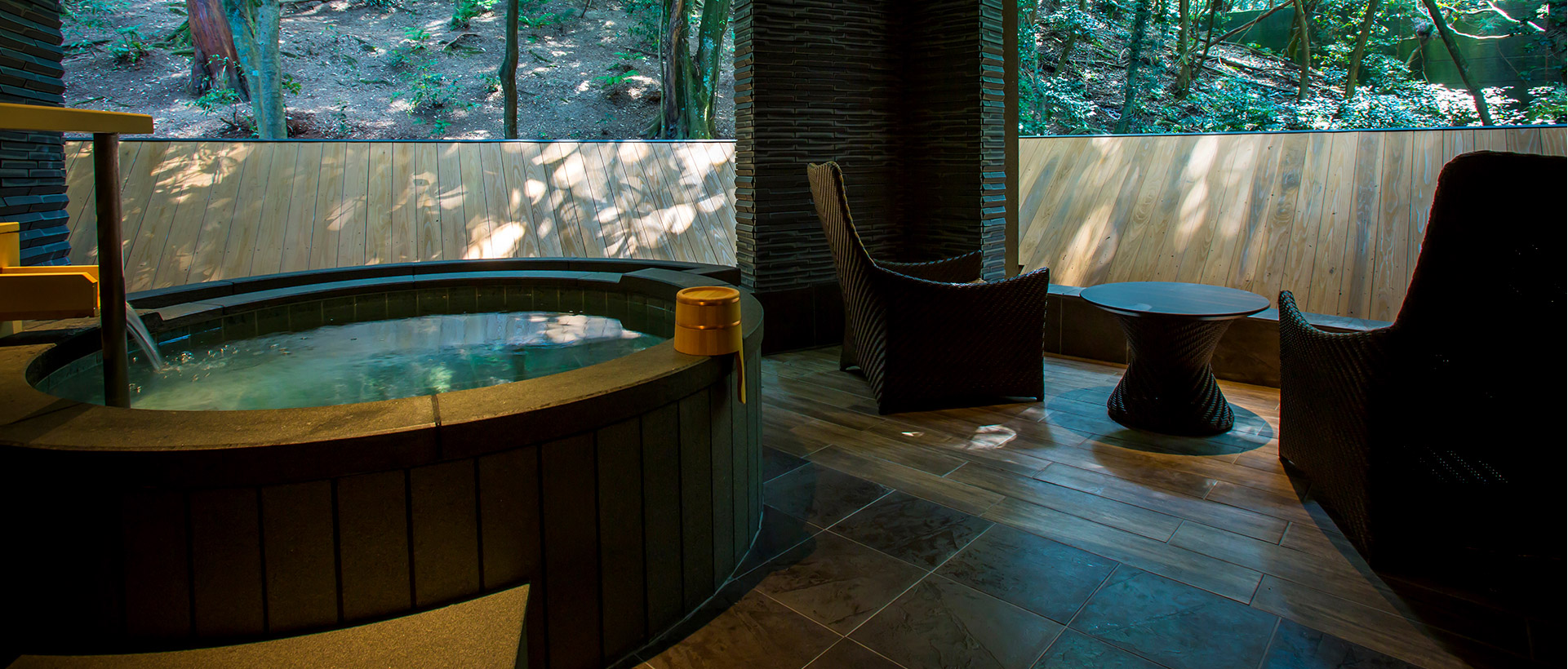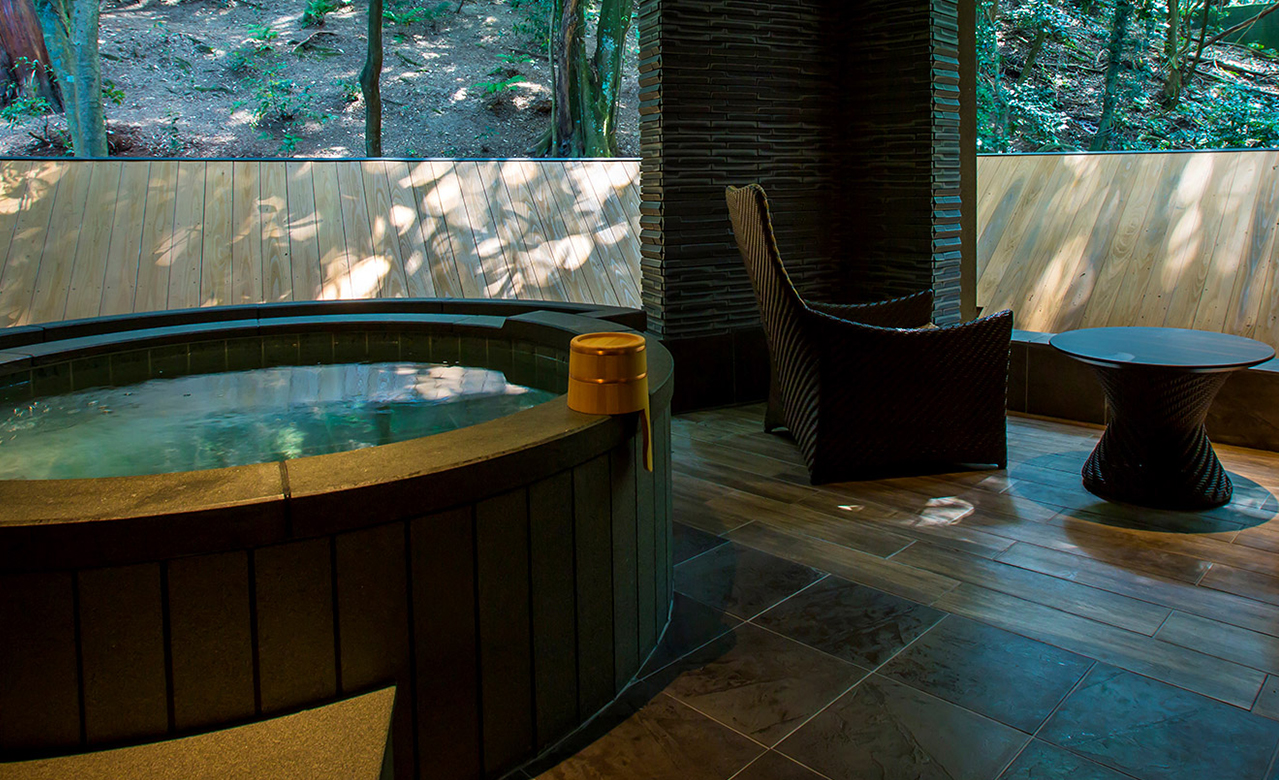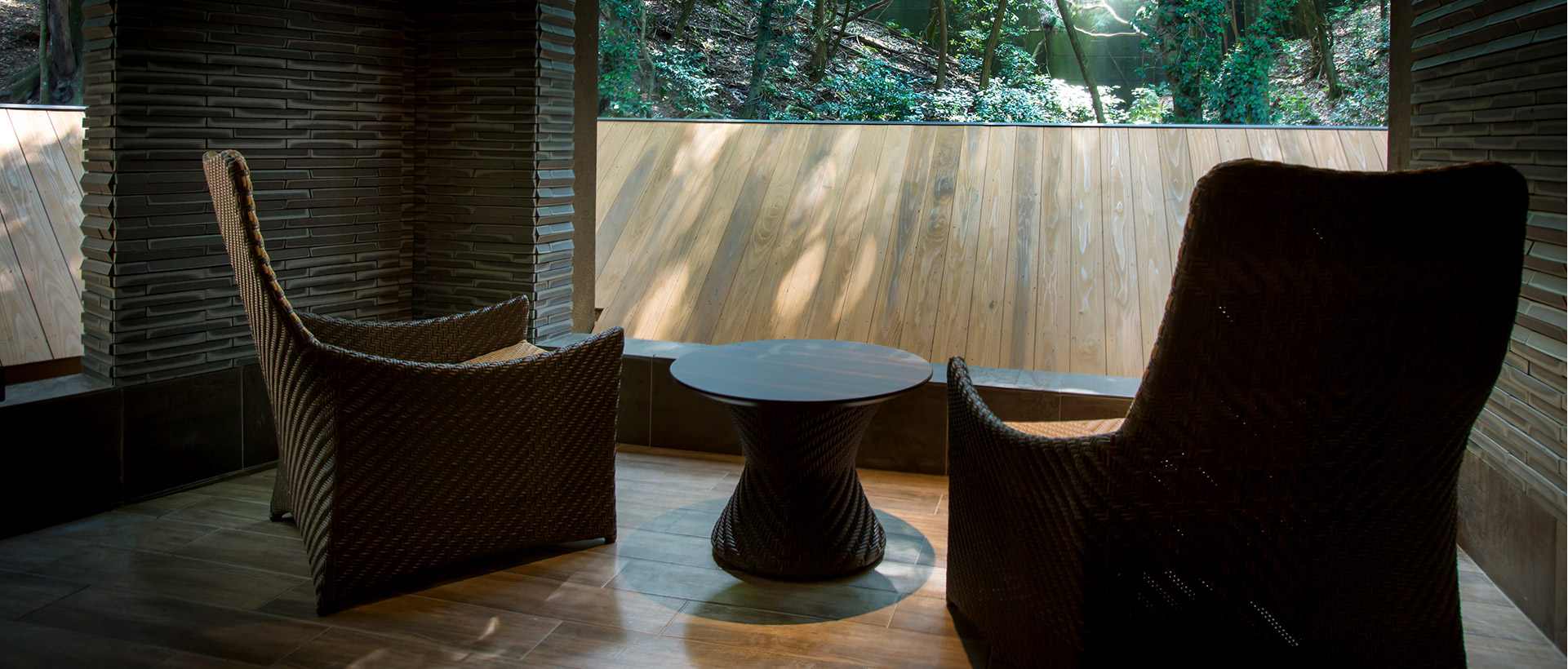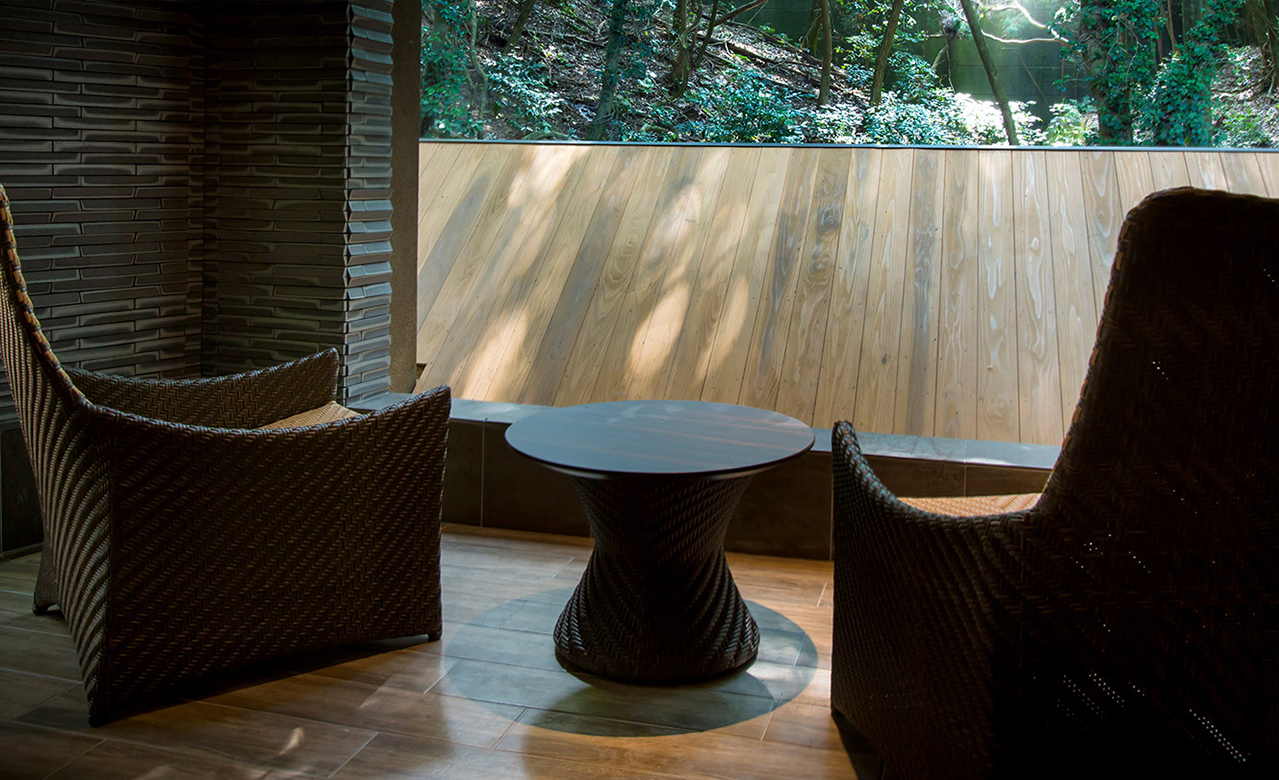 BATHE IN THE FOREST'S EMBRACE ~ MORI NO YU
Listen to the hum of the forest in our new private bath, Mori no Yu. The striking bathtub is surrounded by lush trees that reflect in its waters. The spacious terrace also has lounge space for cooling off after a hot bath. With a shower booth, tatami lounge space, and a water server, guests can indulge in the best of Japan's onsen culture. Relax and renew in the purity of the sacred forest of Mount Kotohira.
Fujimidai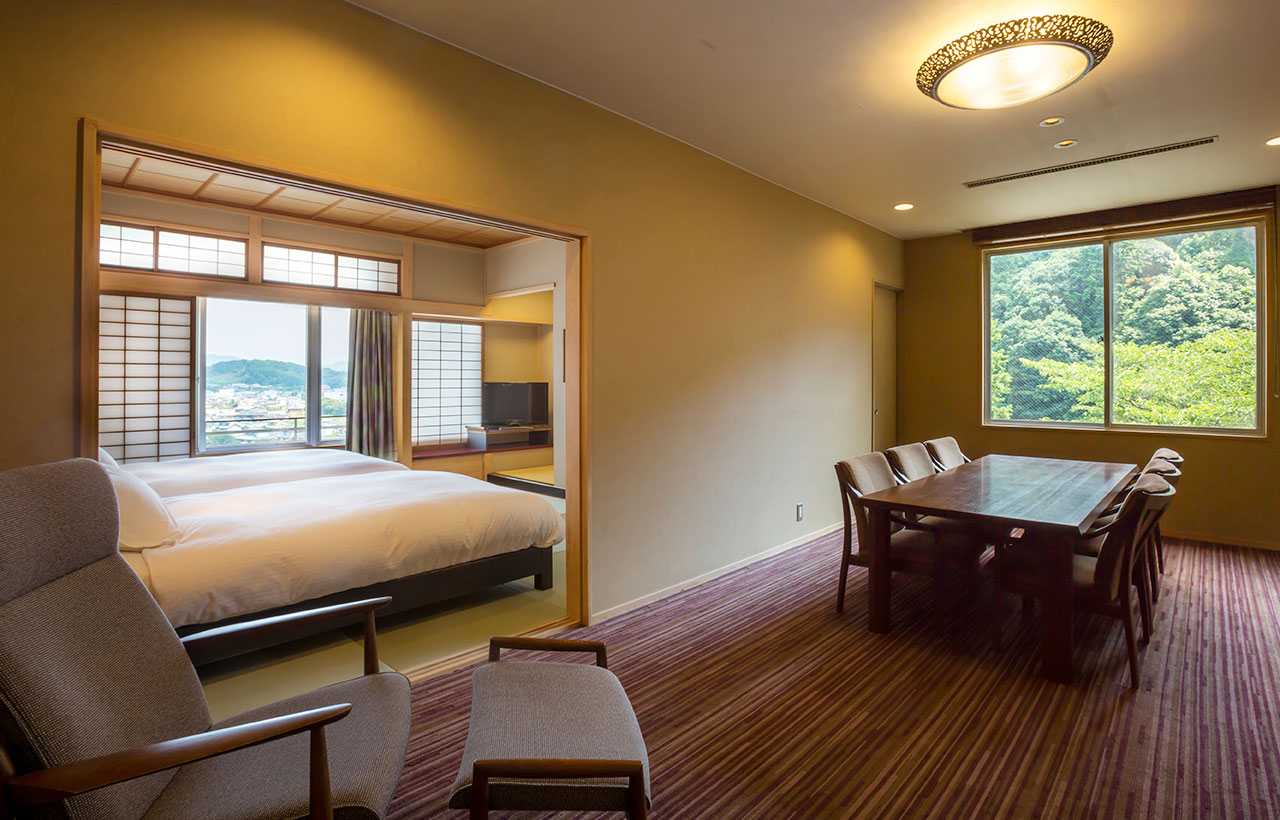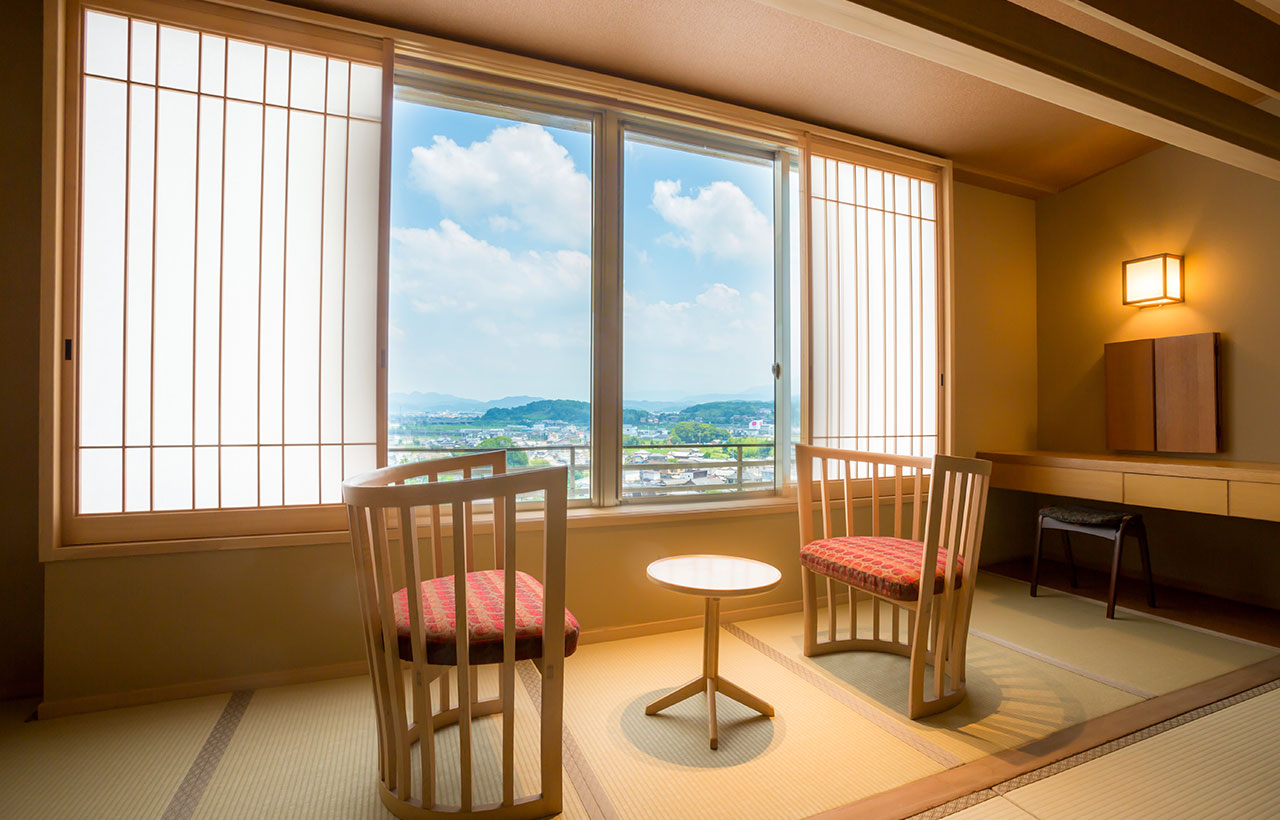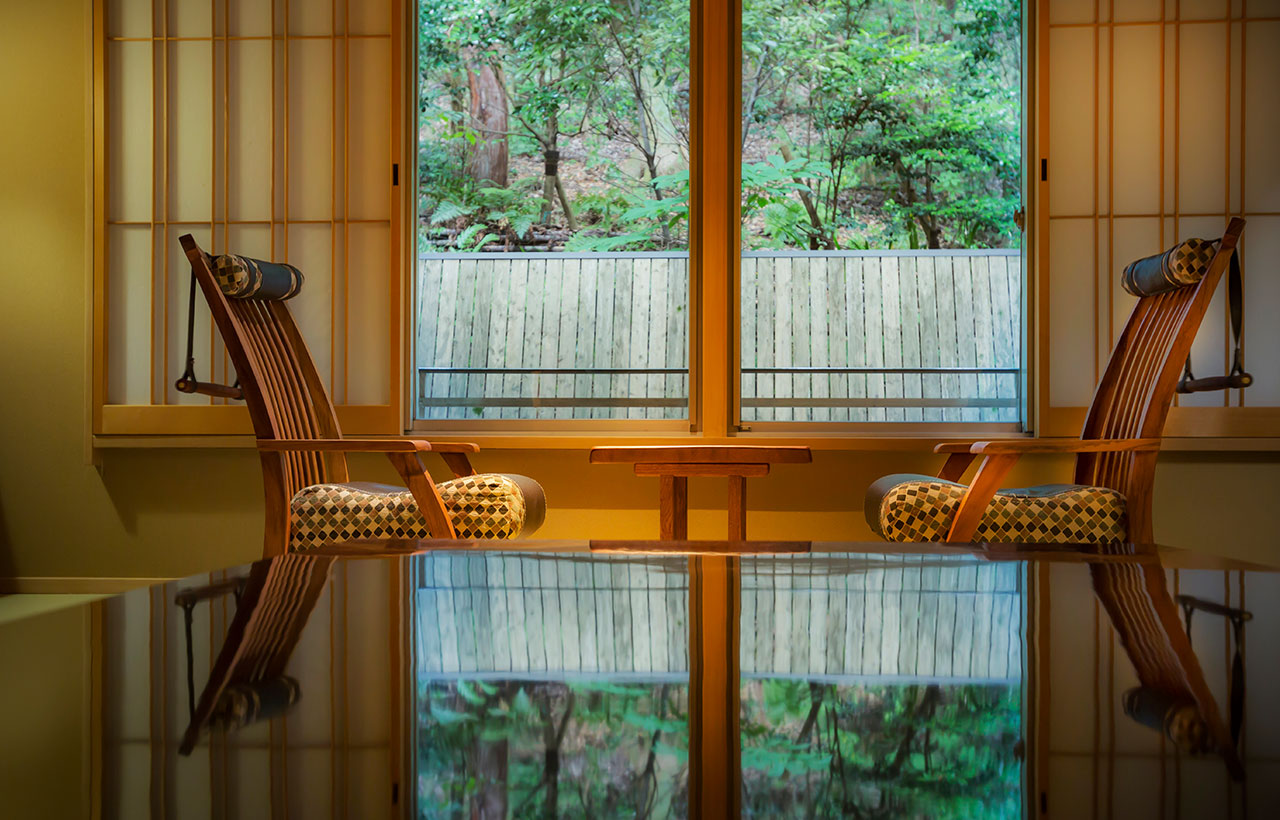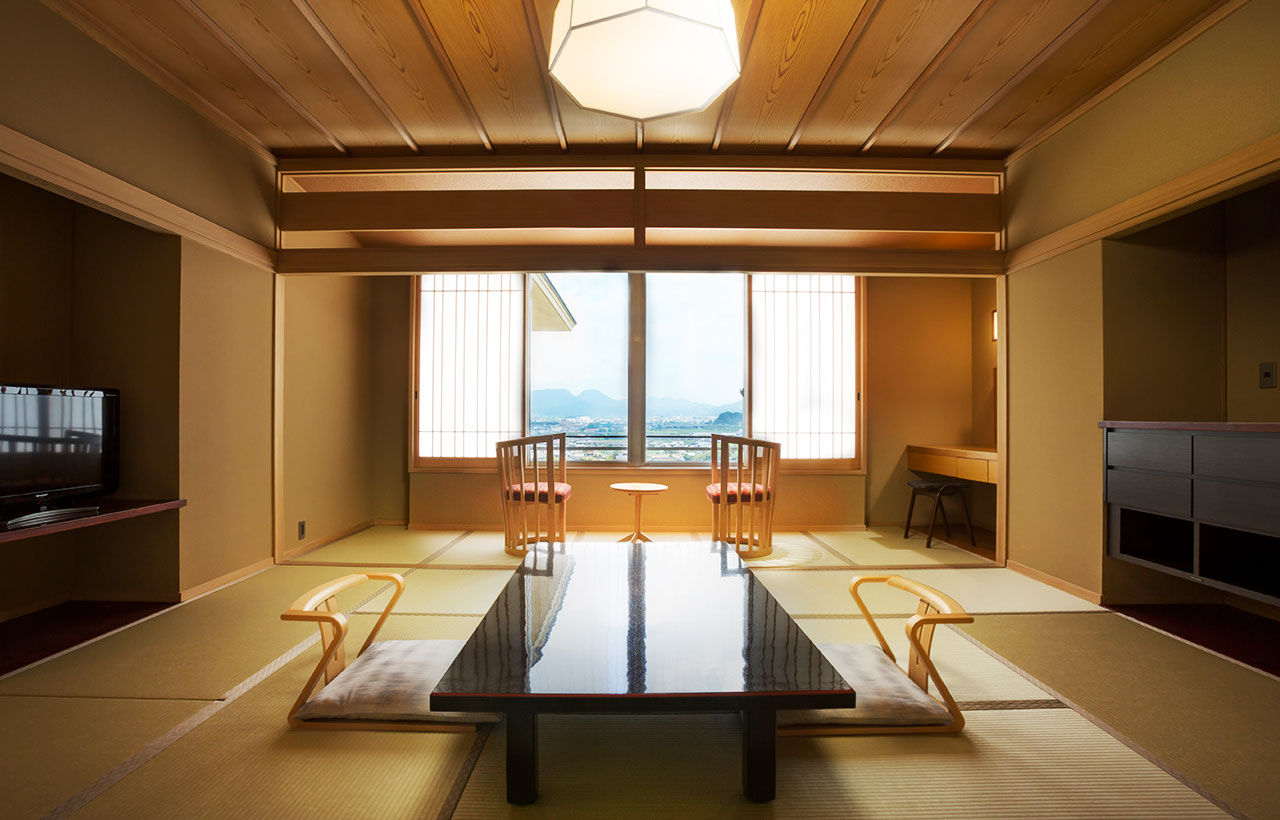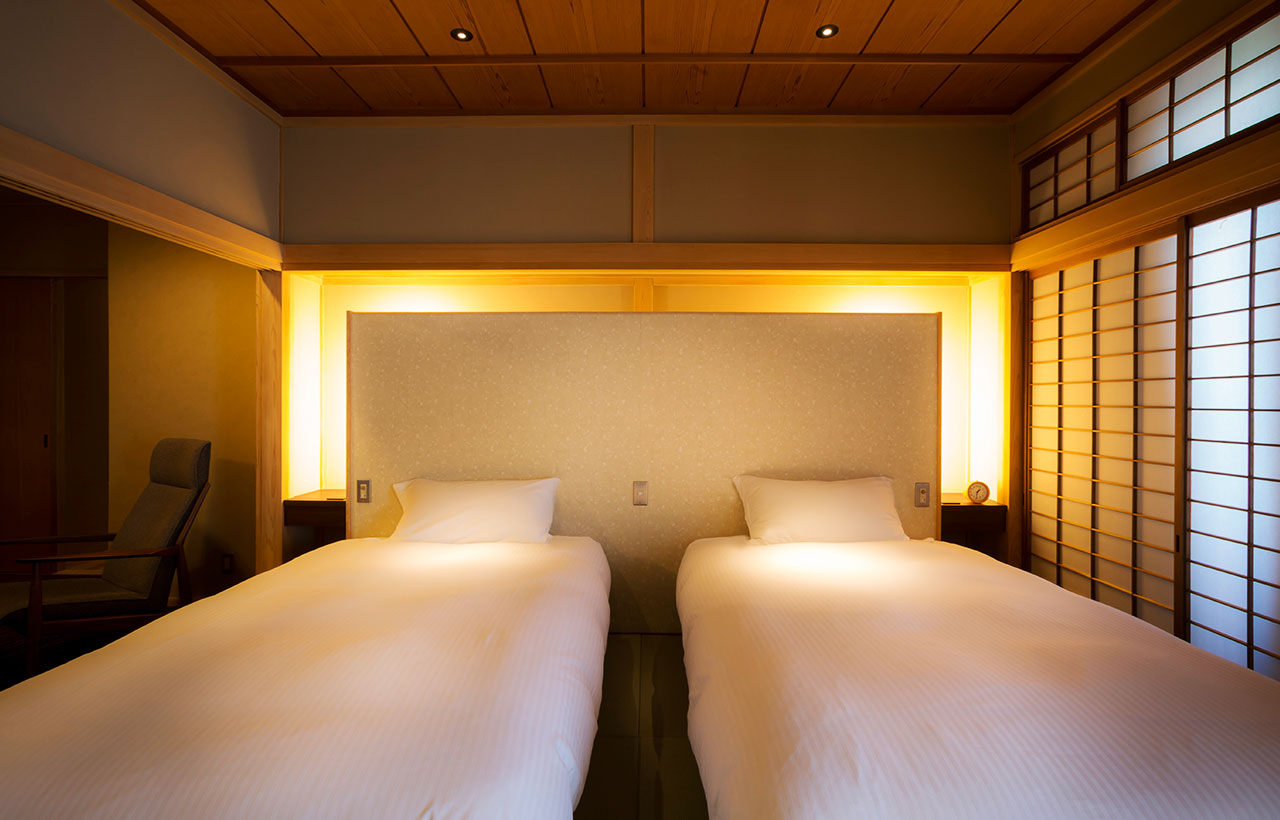 FUJIMIDAI RENEWAL IN 2018
Fujimidai, nestled on the slope of Mount Kotohira (Zozu), was renovated in 2018 and several new room types were added.
For greater comfort and a more luxurious atmosphere, rooms were renovated with new interiors, including new bath and powder rooms, and new fixtures.
Over 400 Years of History