I've come here to
Kotohira's Kadan,
And the people,
I won't forget...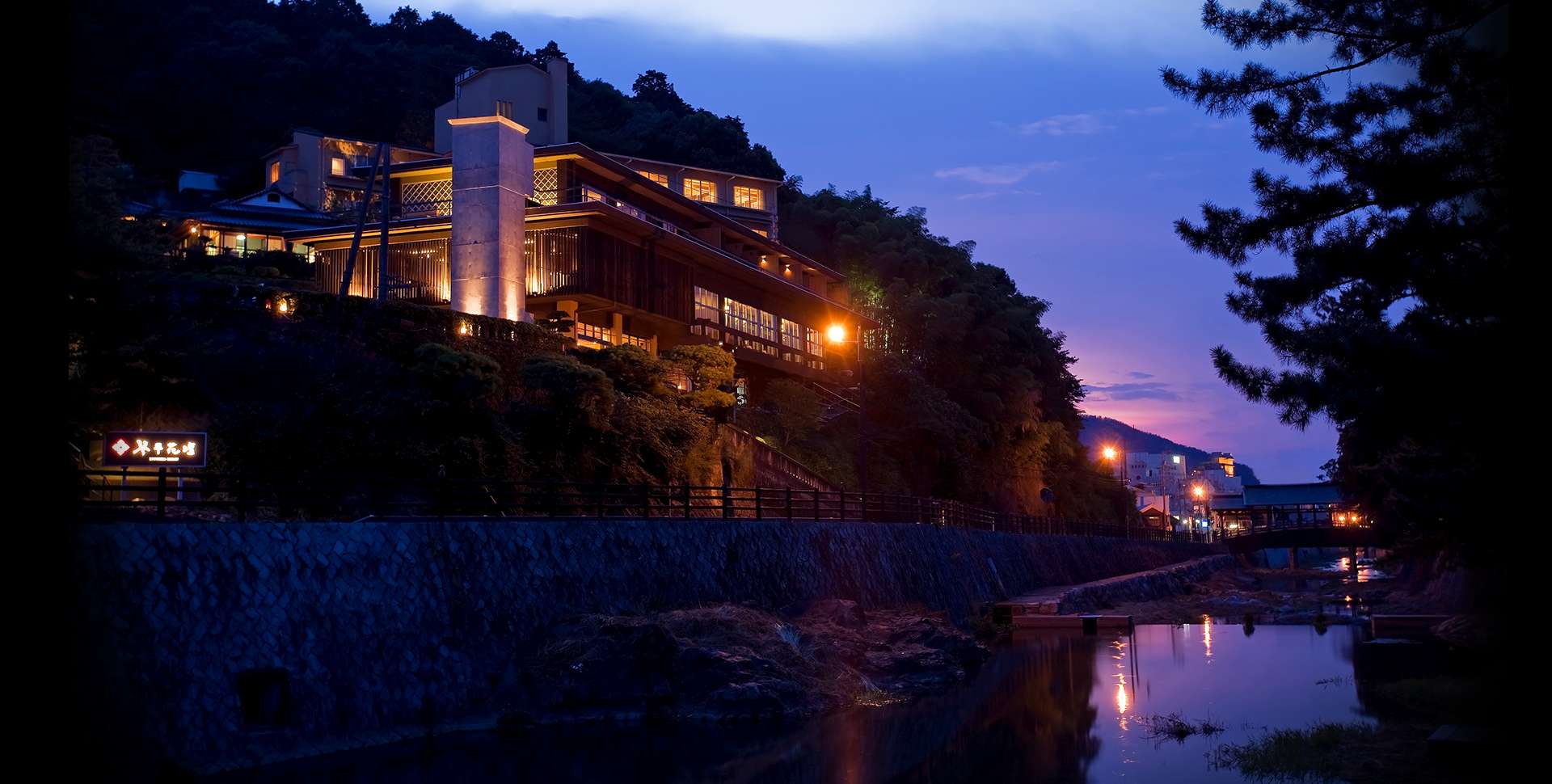 Steeped in History,
At the Foot of
Kotohira-gu Shrine.
Kotohira Kadan
Kotohira Kadan, resting at the foot of sacred Mount Kotohira,
is the premiere accommodation in the Konpira area.
With its exquisite Japanese garden and tranquil atmosphere,
it gives respite from the bustle of Kotohira Town.
Over its 400 year history, many luminaries of days gone by have graced its guest list,
including members of the Imperial family,
the old aristocracy, literary greats like Mori Ogai and Yosano Akiko,
as well as artists and other notable people.
HANARE
Sukiya-Style Cottages
Sentei: the play of light & shadow,
Enjukaku: the delight of the literary greats,
Choseiden: the museum of time
Three beautiful cottages dotting the landscape of a traditional Japanese garden; in spring, the plum blossoms herald the brilliance of winter, summer bursts with lush greenery, autumn comes with its fiery finery, and a light dusting of snow brings back the winter chill. Every season is a delight.
GUEST ROOMS
Fujimidai / Shogetsu Terrace
Fujimidai renewal in 2018
Fujimidai, on the slope of sacred Mount Kotohira, overlooks the Sanuki Plains. Shogetsu Terrace provides a bird's eye view of Sayabashi Bridge, a Tangible Cultural Property that crosses over the Kanakura River.
Fujimidai has Japanese rooms, Japanese-Western rooms, rooms with open-air baths, and other types to suit every need. Shogetsu Terrace features Western-style rooms that face east with beautiful views both at night and during the day.

GUEST ROOMS
Sansuikaku
Grand Renewal in 2019
Sansuikaku:
in harmony with nature
Newly renovated
in 2019
With the beautiful Japanese garden unfolding outside the windows, Sansuikaku brings the harmony of nature indoors. In 2019, Japanese-Western rooms with private open-air baths were added, and the standard Japanese rooms also received thorough renovations. The private, reservation-only open-air onsen bath "Mori no Yu" also was built for guests of Sansuikaku.
Over 400 Years of History