Guest Rooms
Sukiya-Style Cottages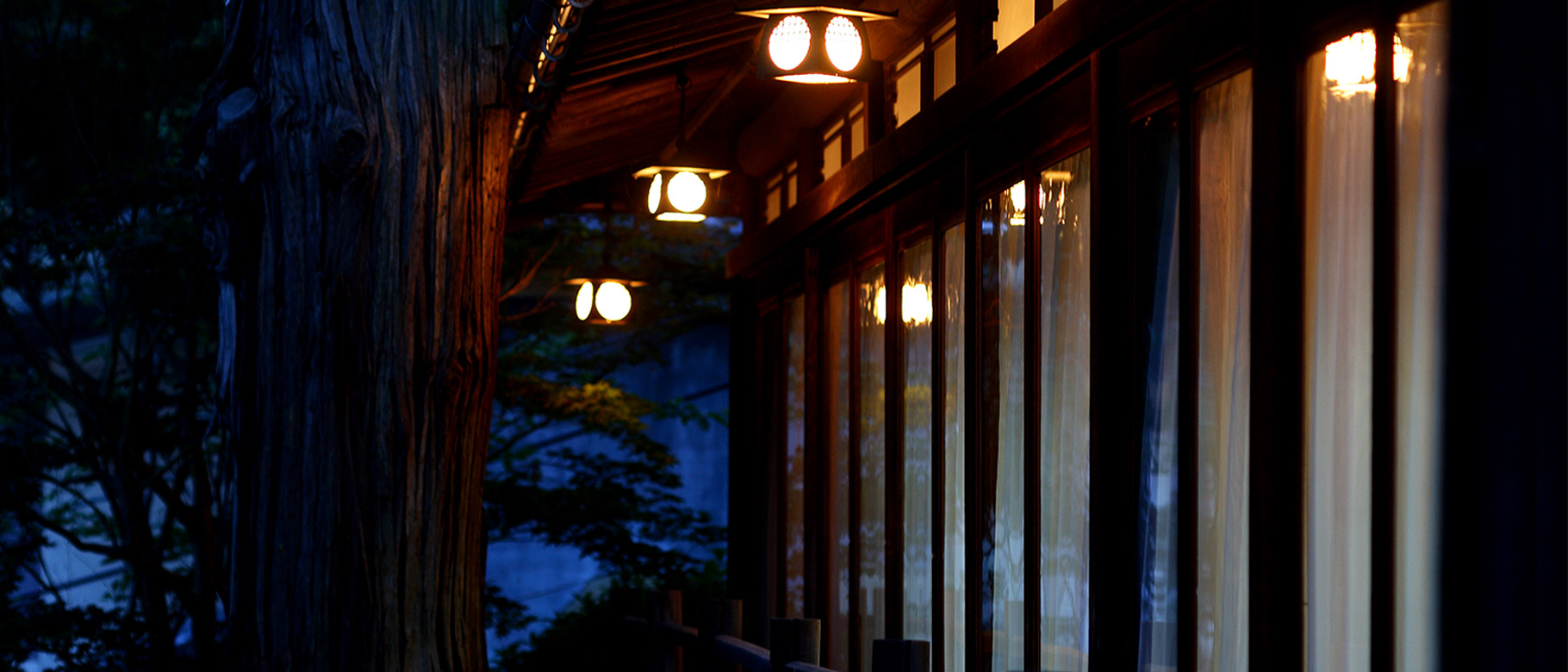 Guest Rooms(Sukiya-Style Cottages)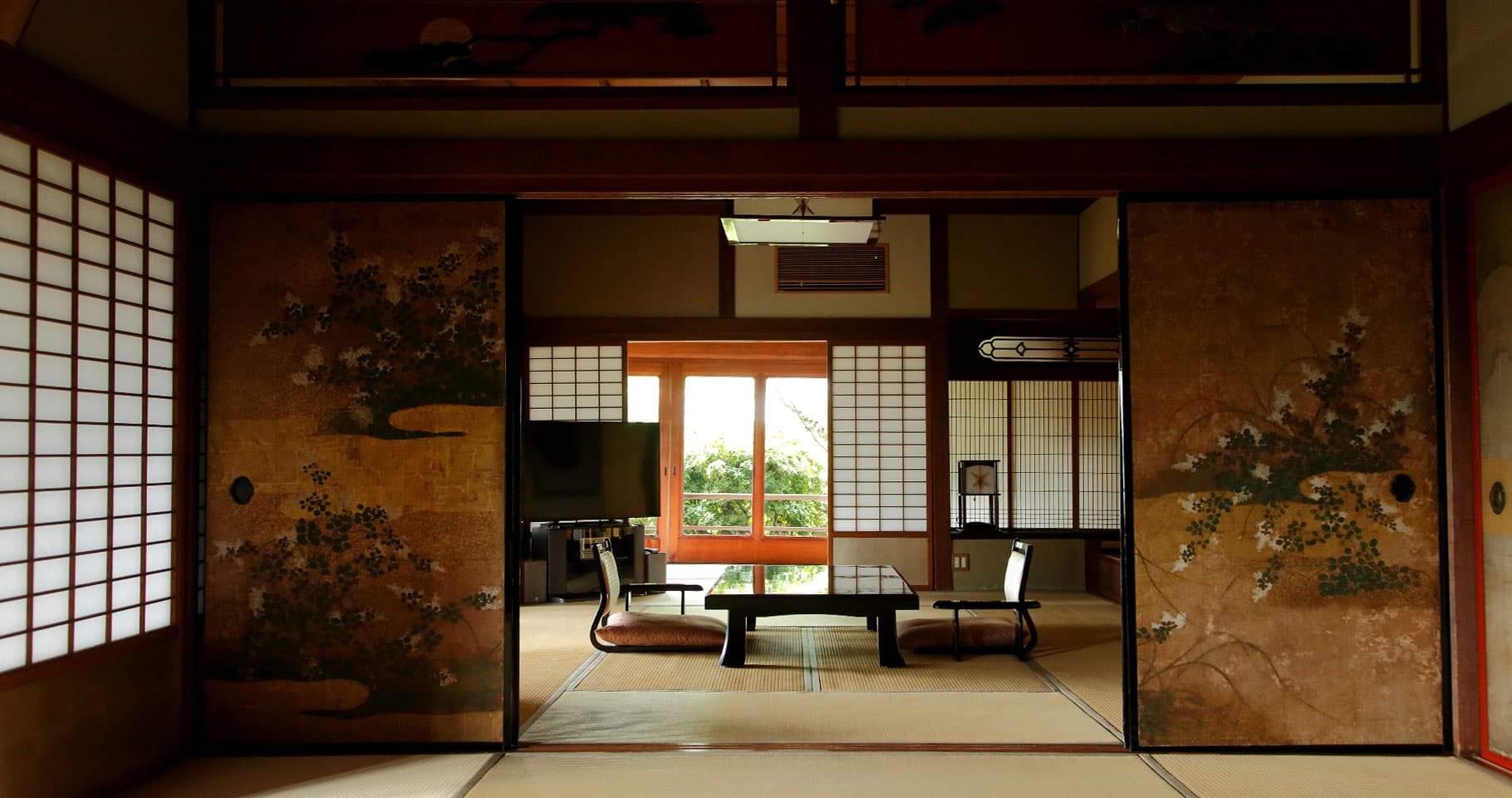 CHOSEIDEN
HANARE
Our Most Ornate
Sukiya-style Cottage
Kotohira Kadan's Choseiden cottage is a testament to the enduring beauty of early modern Japan. The founder of Kotohira Kadan, Miyoshi Genjiro, revitalized his family's inn, turning it into a charming ryokan. It was converted into a cottage style, and so he had Choseiden brought to Kotohira from his hometown of Tadotsu to be used as one of these cottages. This carefully preserved marvel of traditional Japanese architecture is an enduring symbol of Kotohira Kadan's legacy. Choseiden is made in the traditional sukiya teahouse style, and the many artistic treasures that Genjiro collected over the years add character to its interior.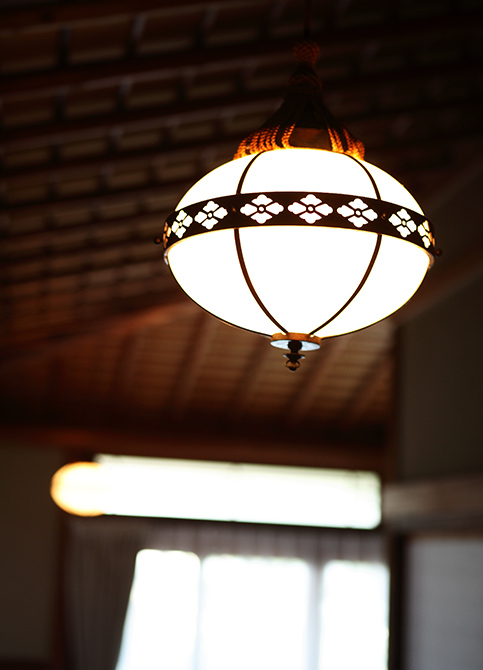 When entering Choseiden, guests are greeted by a scroll painting of a tea bowl and yuzu fruit by Kotozuka Eiichi. In the shoin-style parlor, guests can view a triptych of "Kanzan Jittoku" by master Horie Yorinao. The architecture and interior of the cottage itself are also works of art, with wave glass windows and woven tassels decorating the light fixtures, both characteristic of early modern Japan. Though a historical landmark in its own right, there are still modern comforts, like a hinoki cedarwood bath overlooking the garden, and the small parlor attached to the bath has been turned into a dressing room with a large mirror and closet space. A truly elegant vintage experience.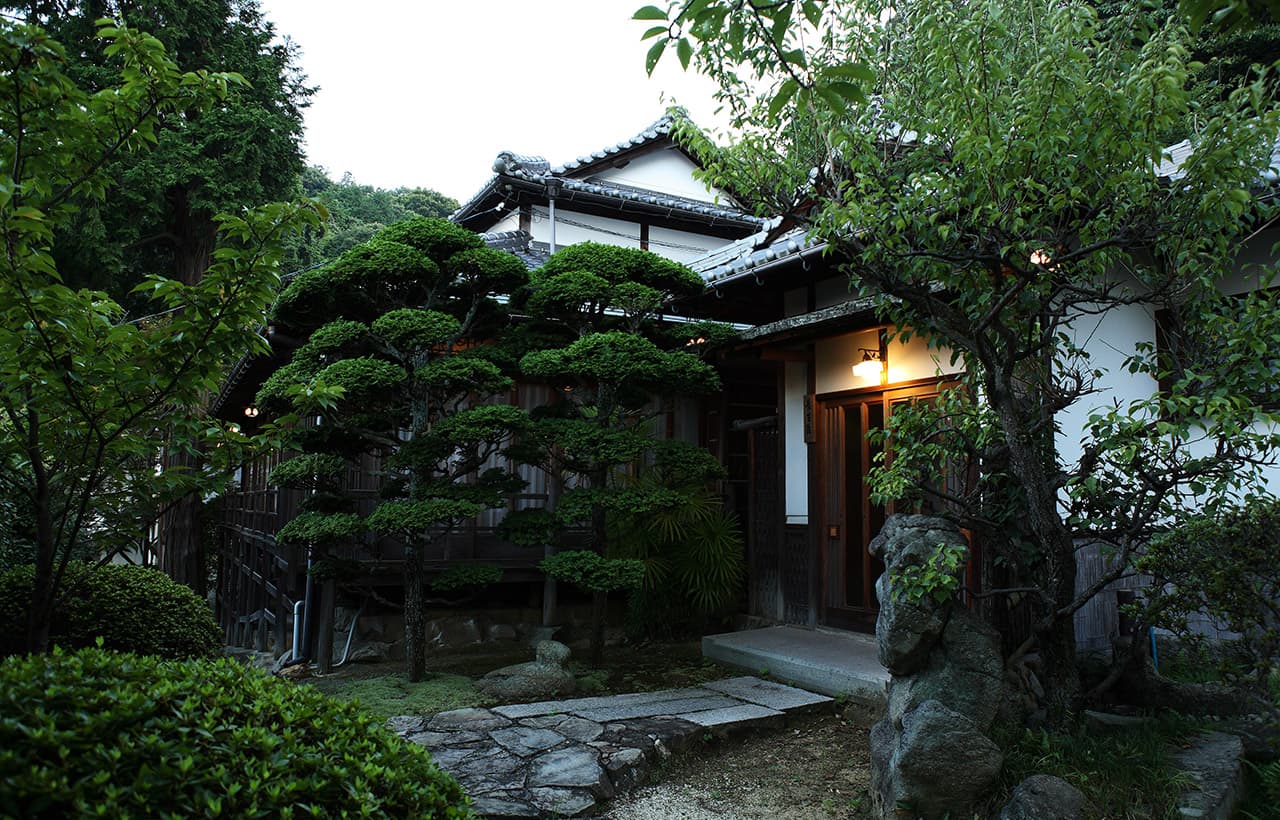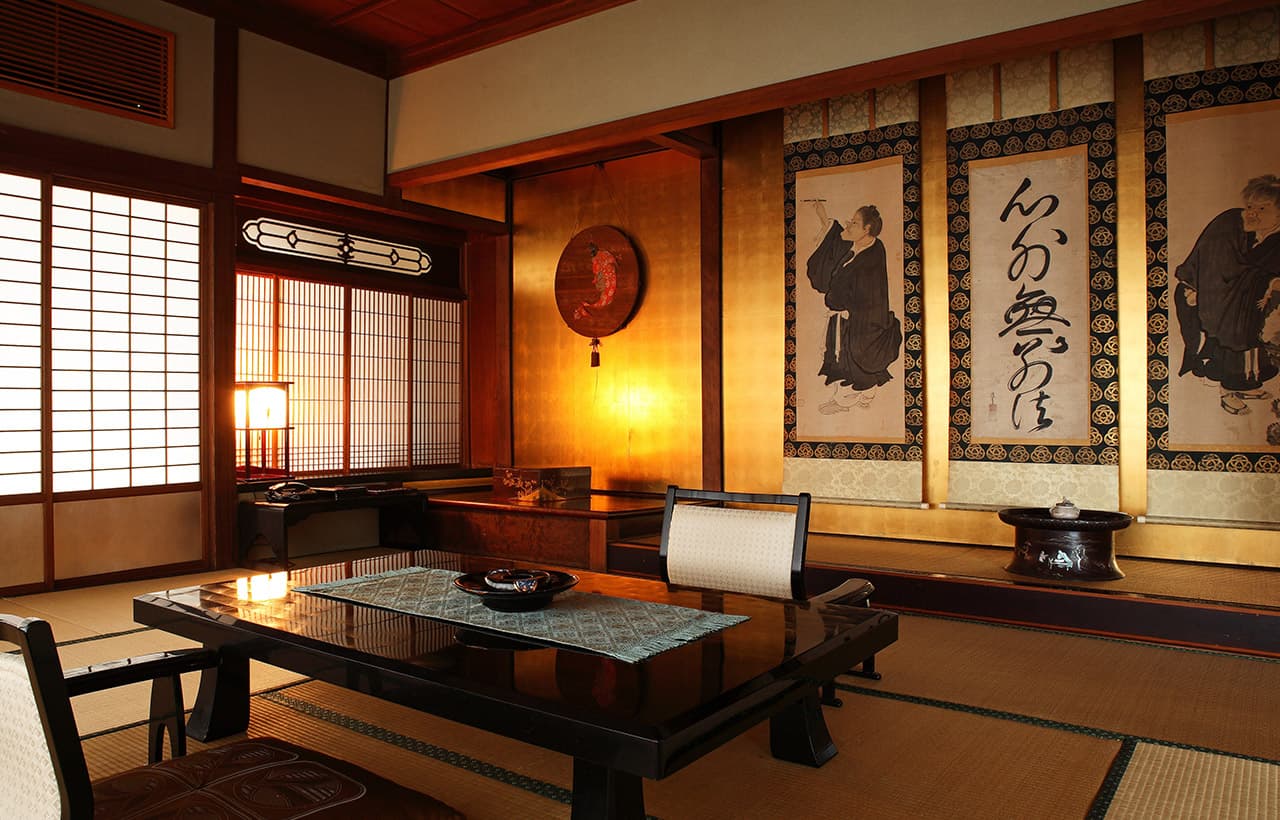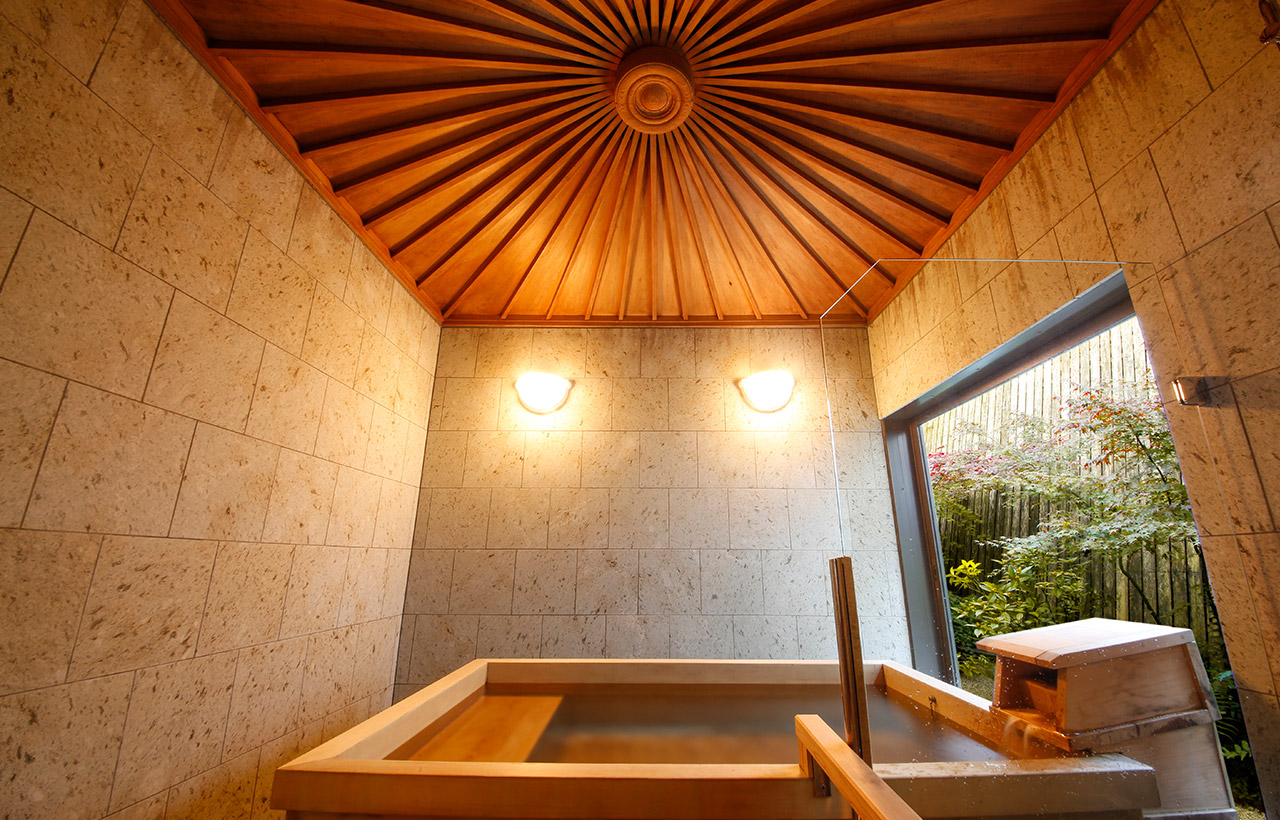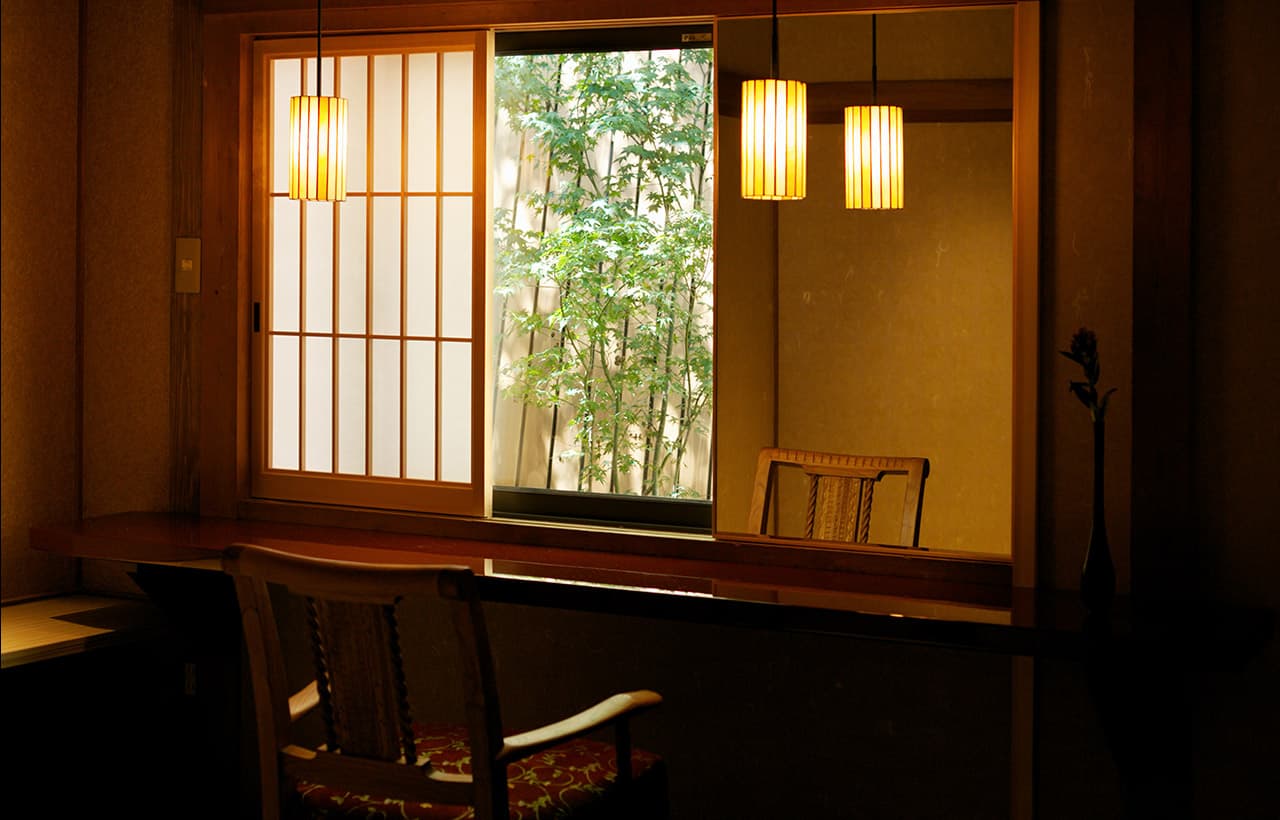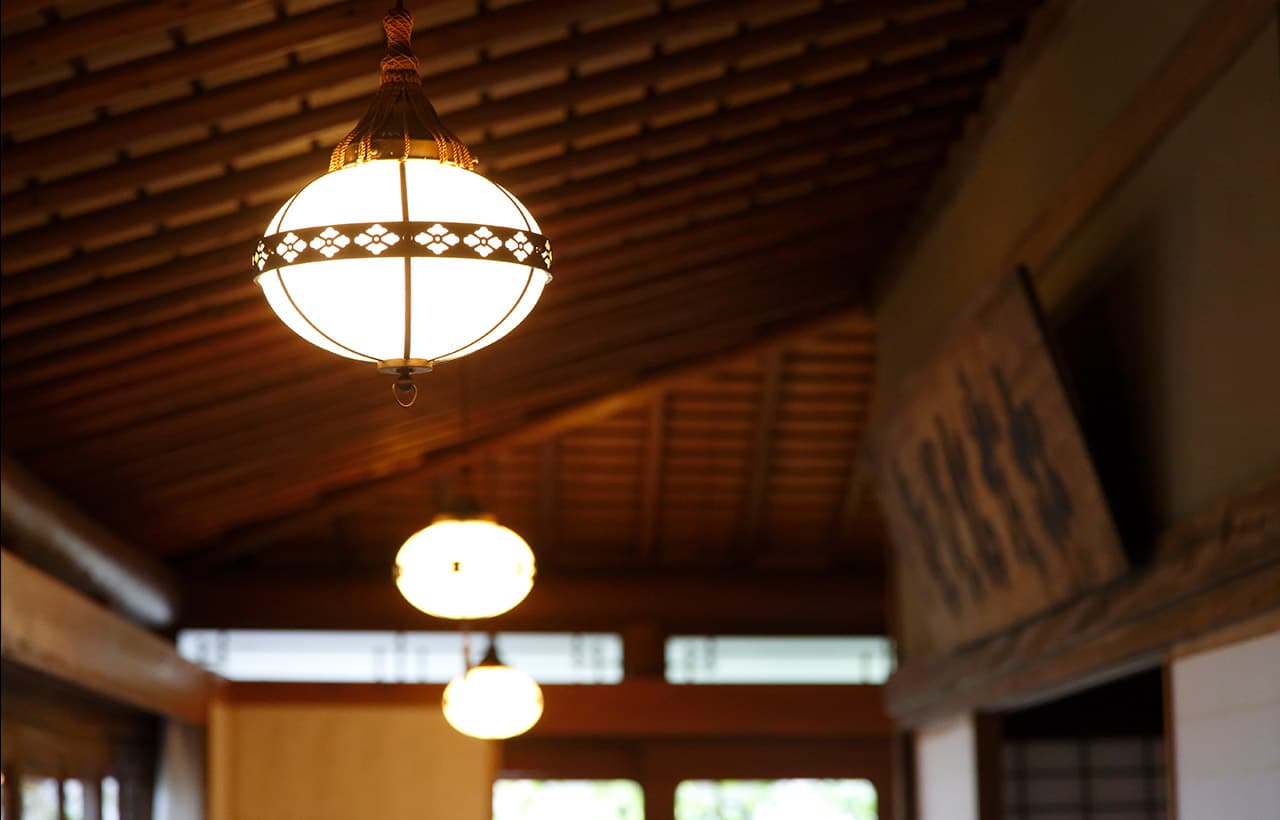 Choseiden's Fusuma Paintings
Choseiden was brought from Tadotsu in 1951 piece by piece and reconstructed on-site at Kotohira Kadan. Housed within the cottage are many pieces of art, both framed and placed directly on interior surfaces; perhaps most striking is the fusuma-e (sliding door painting) of three men on mounted horseback. This is a scene called "Sanko no Rei" (The Courtesy of Three Times) from the Romance of the Three Kingdoms, an old Chinese epic. This detailed painting is attributed to Hashimoto Kansetsu, but this provenance was deemed unconfirmed upon examination. Kansetsu was known to have made a "Sanko no Rei" work in 1916, and it is possible that the popularity of that painting influenced the creation of this fusuma-e as well.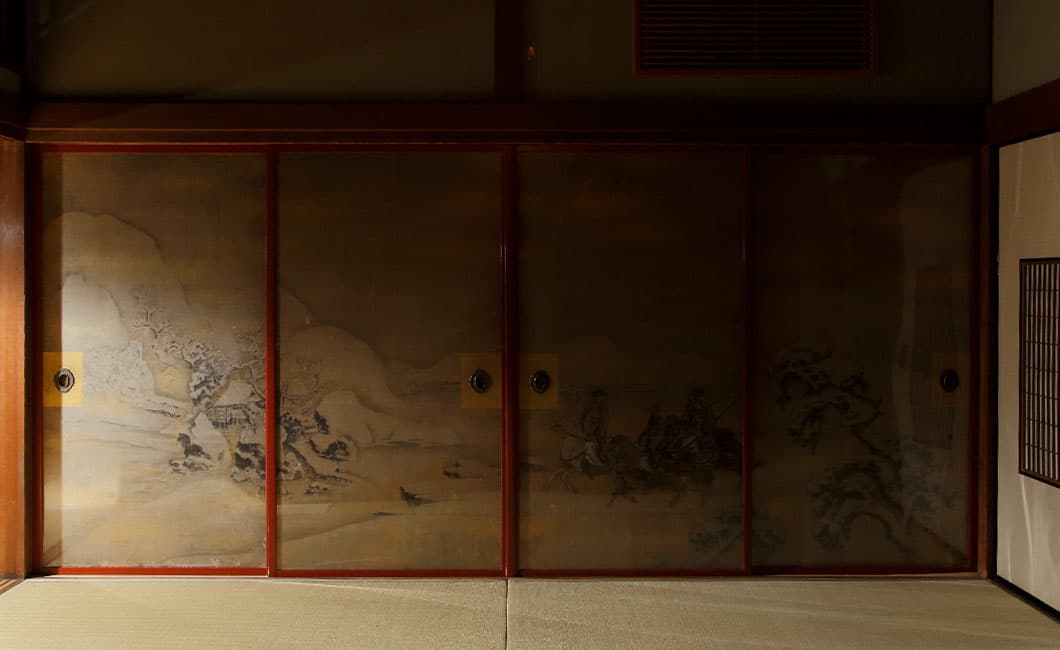 Sukiya-Style Cottages Choseiden
size/capacity
152m2/max. 9 guests
view/floor
Sanuki Plains, Garden/1 floor
non-smoking room
none
interior layout
Japanese room (10 mats) + Japanese room (8 mats) + Japanese room (6 mats) + veranda
bedding
Up to 9 Japanese futons
interior view

layout

notes
Guests must be 12 years of age or older.
*Choseiden was a teahouse that once belonged to the Feudal lord of Marugame's Kyogoku clan and was moved to Kotohira Kadan.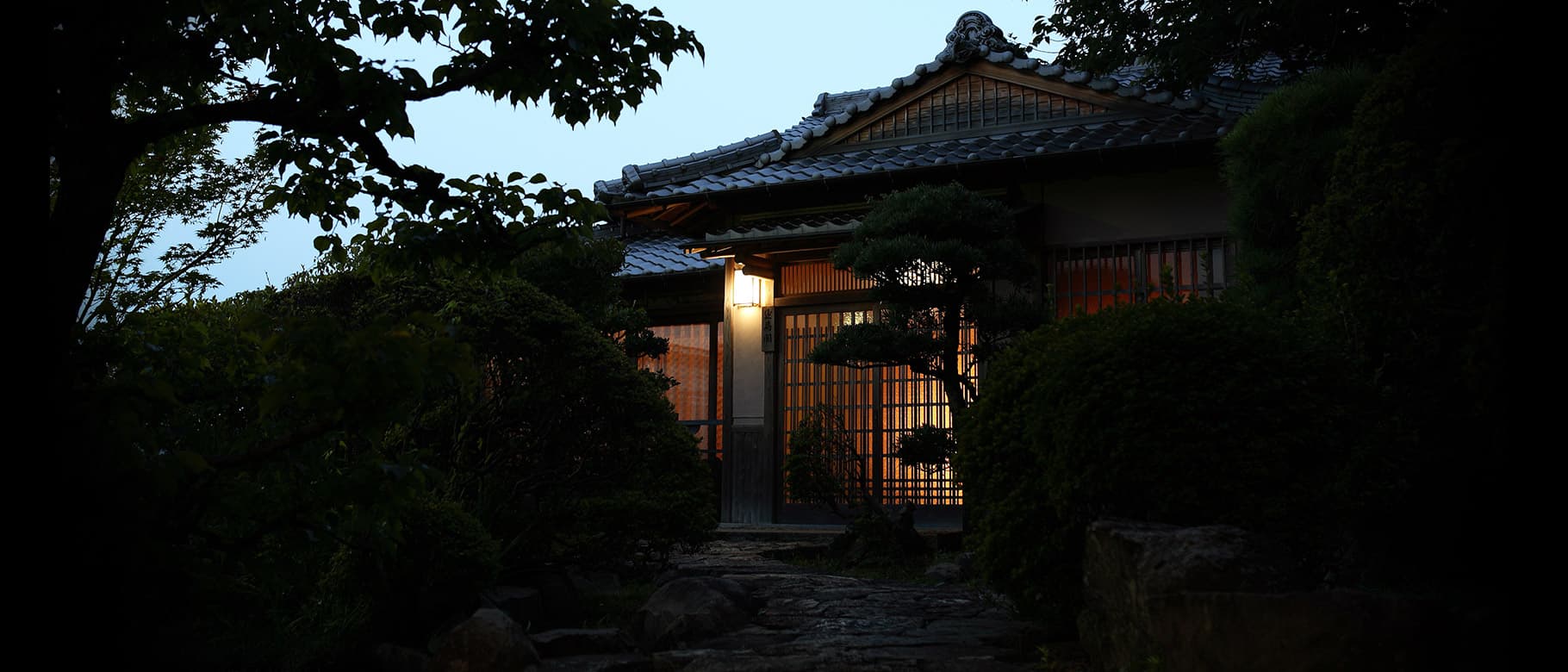 ENJUKAKU
HANARE
A Literary Haven
Enjukaku is a refined cottage that consists of two main tatami rooms surrounded by a long veranda. The famous novelist Mori Ogai stayed here once and, in his novella "Konpira", the main character stays in a room that echoes Enjukaku. The Japanese garden is the cottage's focal point, and with soft sunlight filtering in, its atmosphere is peaceful and refined. One of Enjukaku's transoms features a crow motif created by Nagai Ikka, and it lends a lively feel to the otherwise tranquil interior. The bath has a parasol-beam ceiling and lattice-work windows that are testaments to the lasting beauty of days gone by.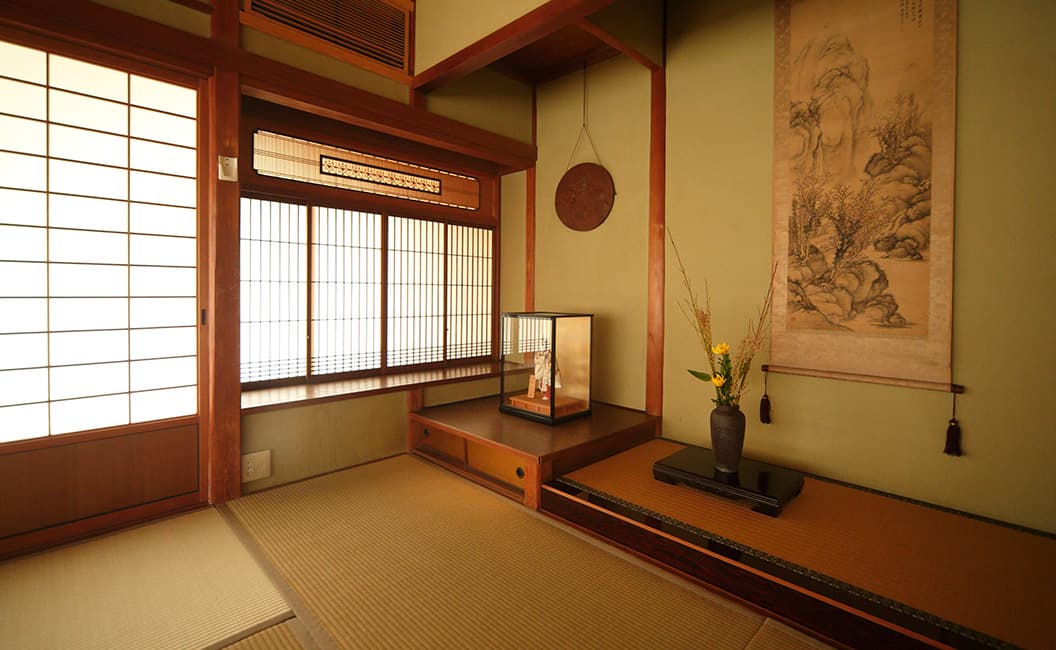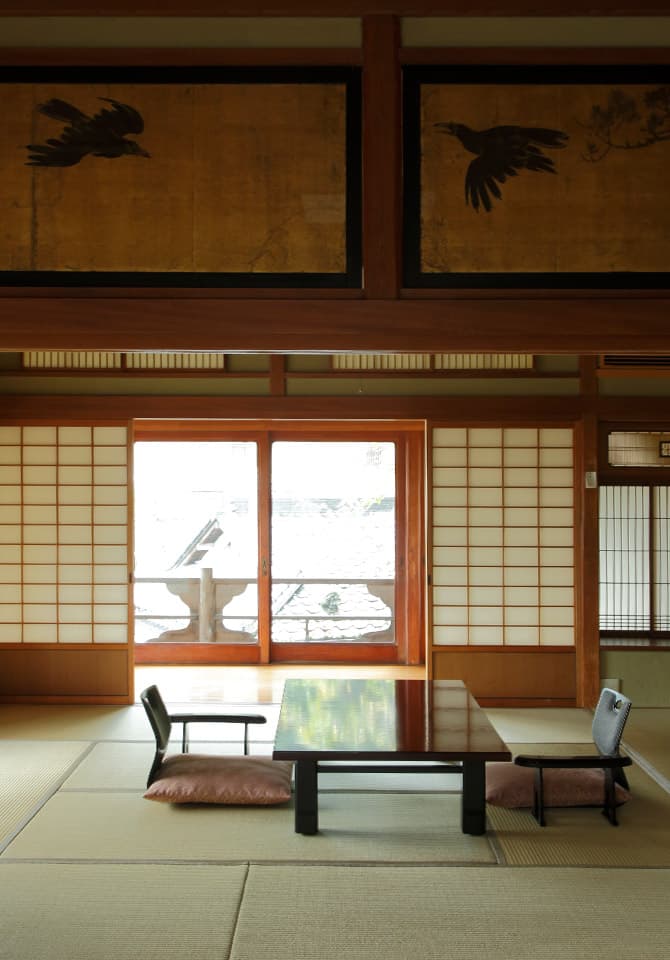 The focal point of Enjukaku's interior is a painted scroll in the Nanga (Chinese) style on display in the alcove. Its crow motif hearkens to the transom painting by Nagai Ikka. This painter was widely praised for his faithful depictions of crows, even earning the name "The Crow Master."
Sukiya-Style Cottages Enjukaku
| | |
| --- | --- |
| size/capacity | 105m2/max. 6 guests |
| view/floor | Sanuki Plains, Garden (in spring, cherry blossoms and azaleas bloom)/1 floor |
| non-smoking room | none |
| interior layout | Japanese room (10 mats) + Japanese room (7.5 mats) + veranda |
| bedding | Up to 6 Japanese futons |
| interior view | layout |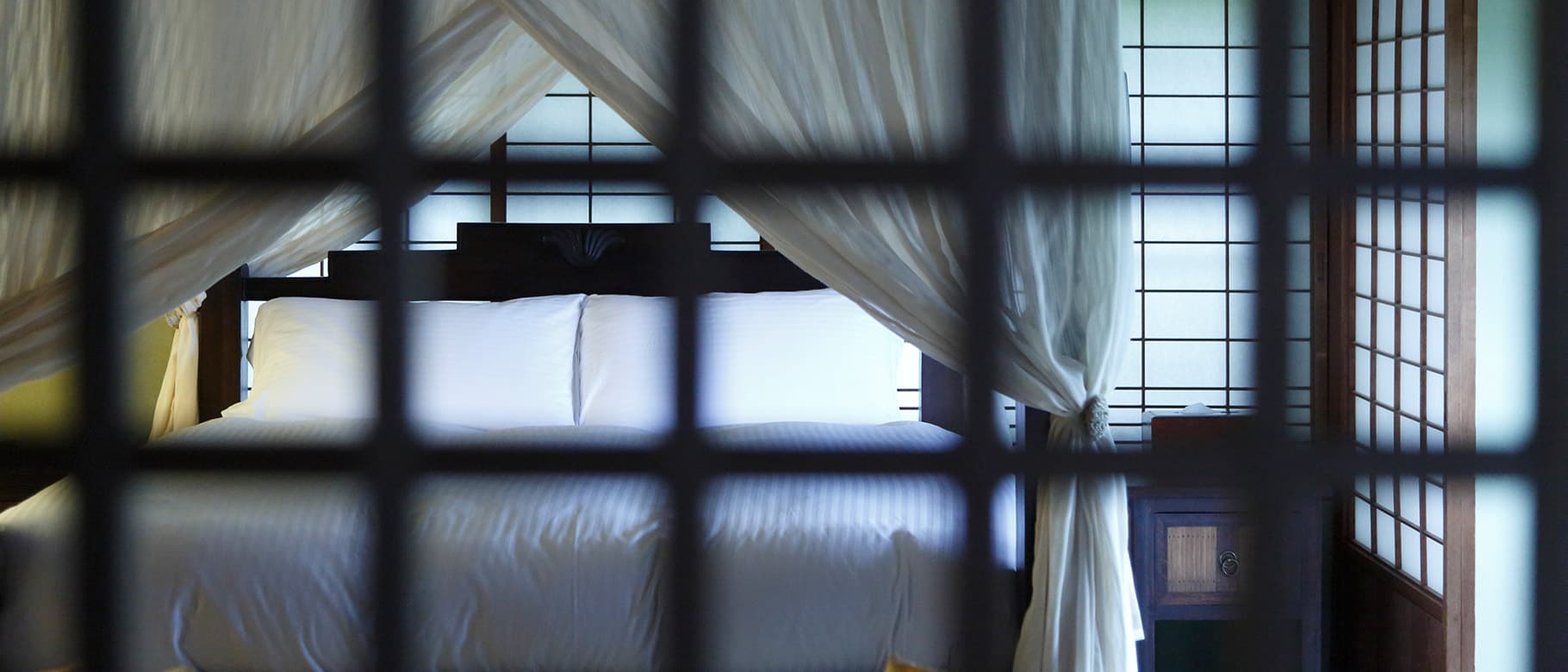 SENTEI
HANARE
Light & Shadow Play
Of Kotohira Kadan's three sukiya-style cottages, Sentei is the oldest. From the simple earthen entryway to the wicker pattern corridor, the beauty of Sentei is in its fine details. With metal fittings with a goose motif, the narcissus carvings on the bath's coved ceiling, artistic touches in every corner give a sense of fine attention to beauty. The sliding doors have been removed to create an open feel, and modern touches like a large bed and sofa add a comfortable feel to Sentei's interior.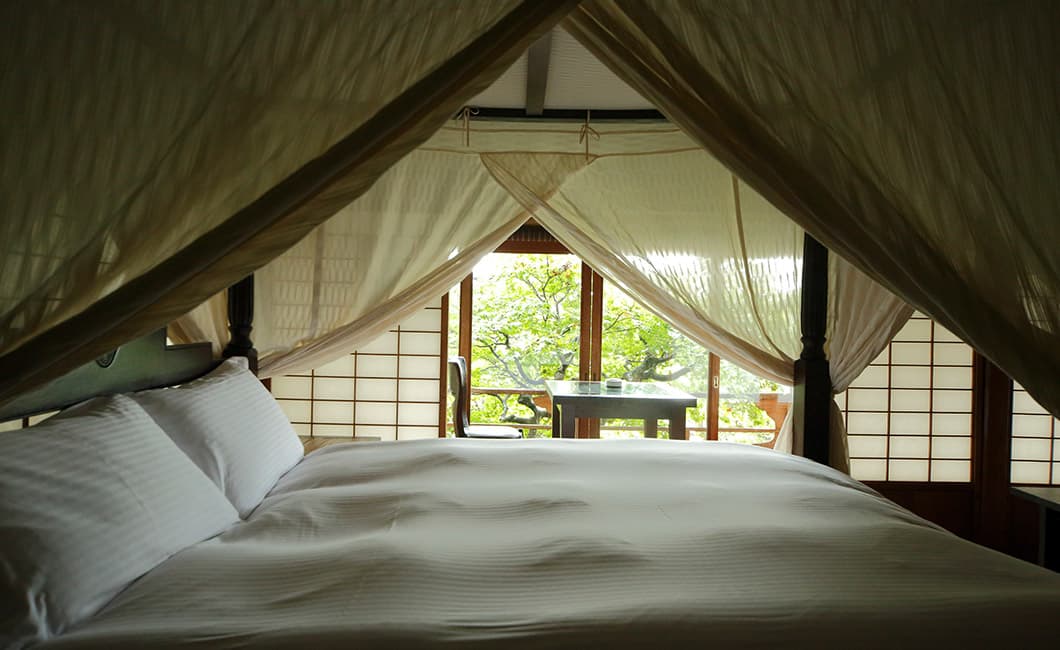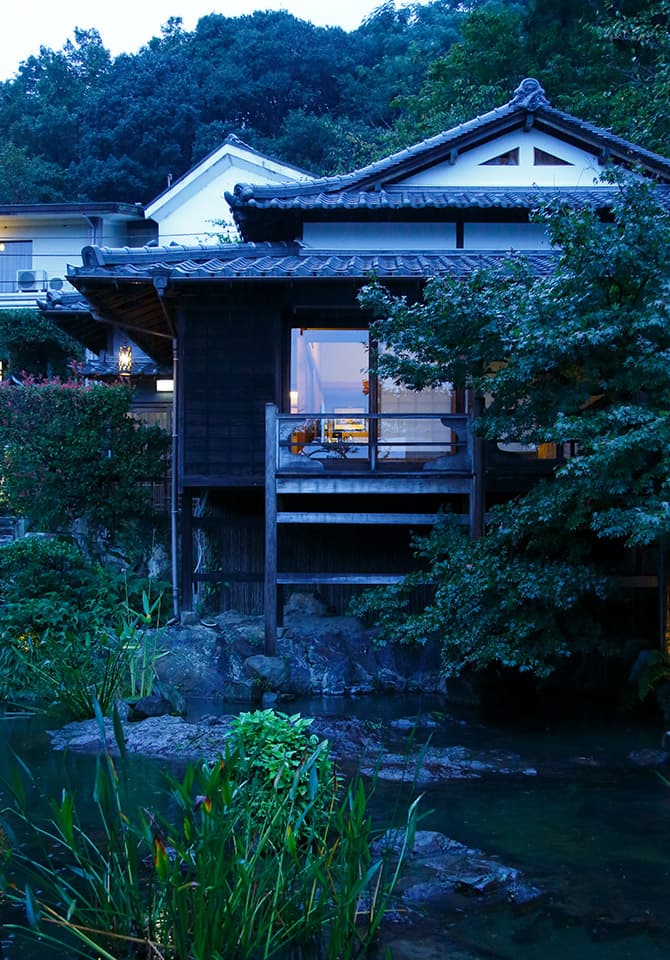 The garden view from the veranda, with its cozy table and chairs, is both charming and calming. During the autumn, this is the best vantage point to see the colorful foliage. Relaxing in the bath, with its coved ceiling, feels like slipping back in time. While much of Sentei remains as it was when Kotohira Kadan first opened, waved glass and other Taisho period ornaments bring the past to life.
Sukiya-Style Cottages Sentei
| | |
| --- | --- |
| size/capacity | 64m2/max. 2 guests |
| view/floor | Sanuki Plains, Garden (perfect for autumn leaf viewing)/1 floor |
| non-smoking room | none |
| interior layout | Japanese room (8 mats) + Japanese room (4 mats) + veranda |
| bedding | Queen Bed (160cm wide x 196cm long x 64cm high) |
| interior view | layout |
Over 400 Years of History