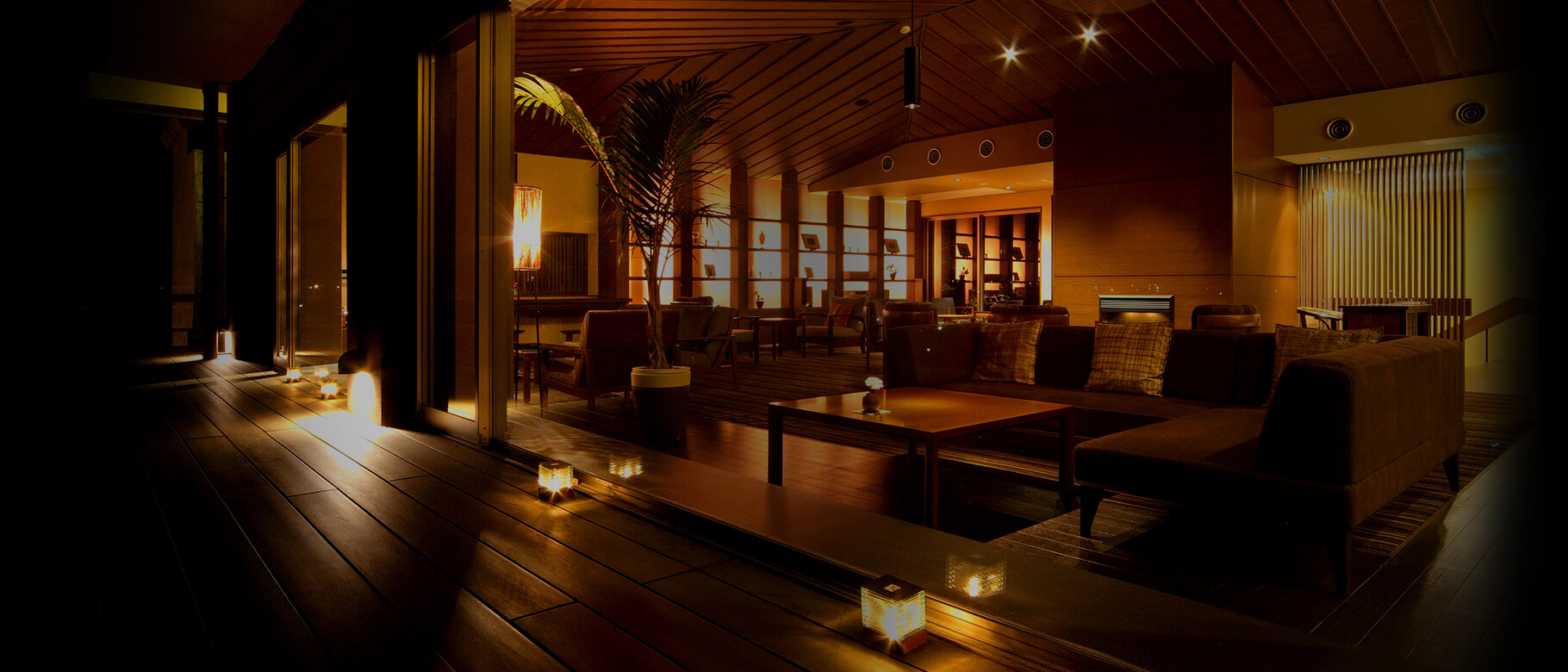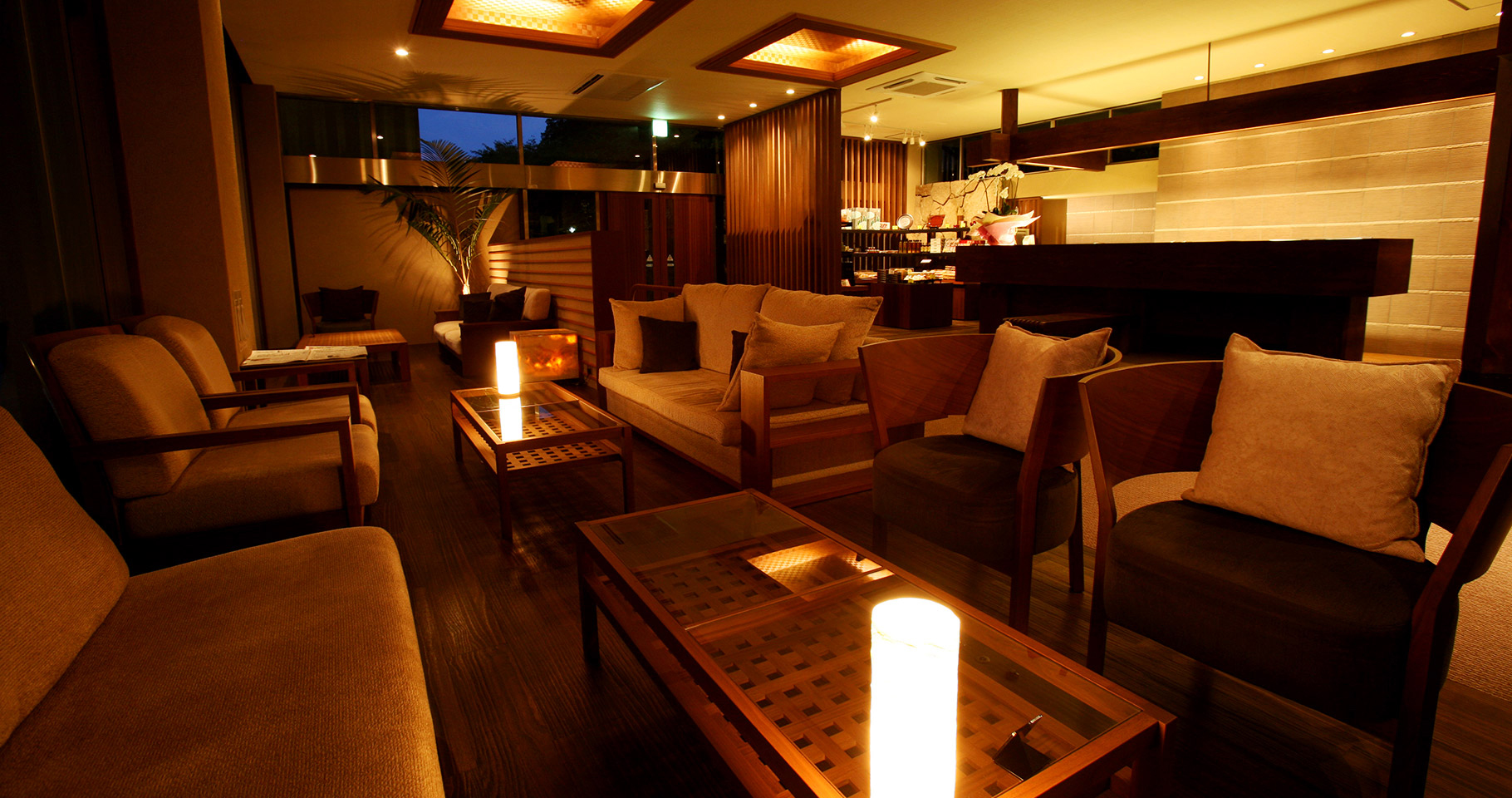 Shogetsu Terrace 1F
FRONT / LOBBY
Kotohira Kadan's lobby is a welcoming space where guests can sit and enjoy a view of the Kanakura River. The gift shop features a selection of local gifts and souvenirs.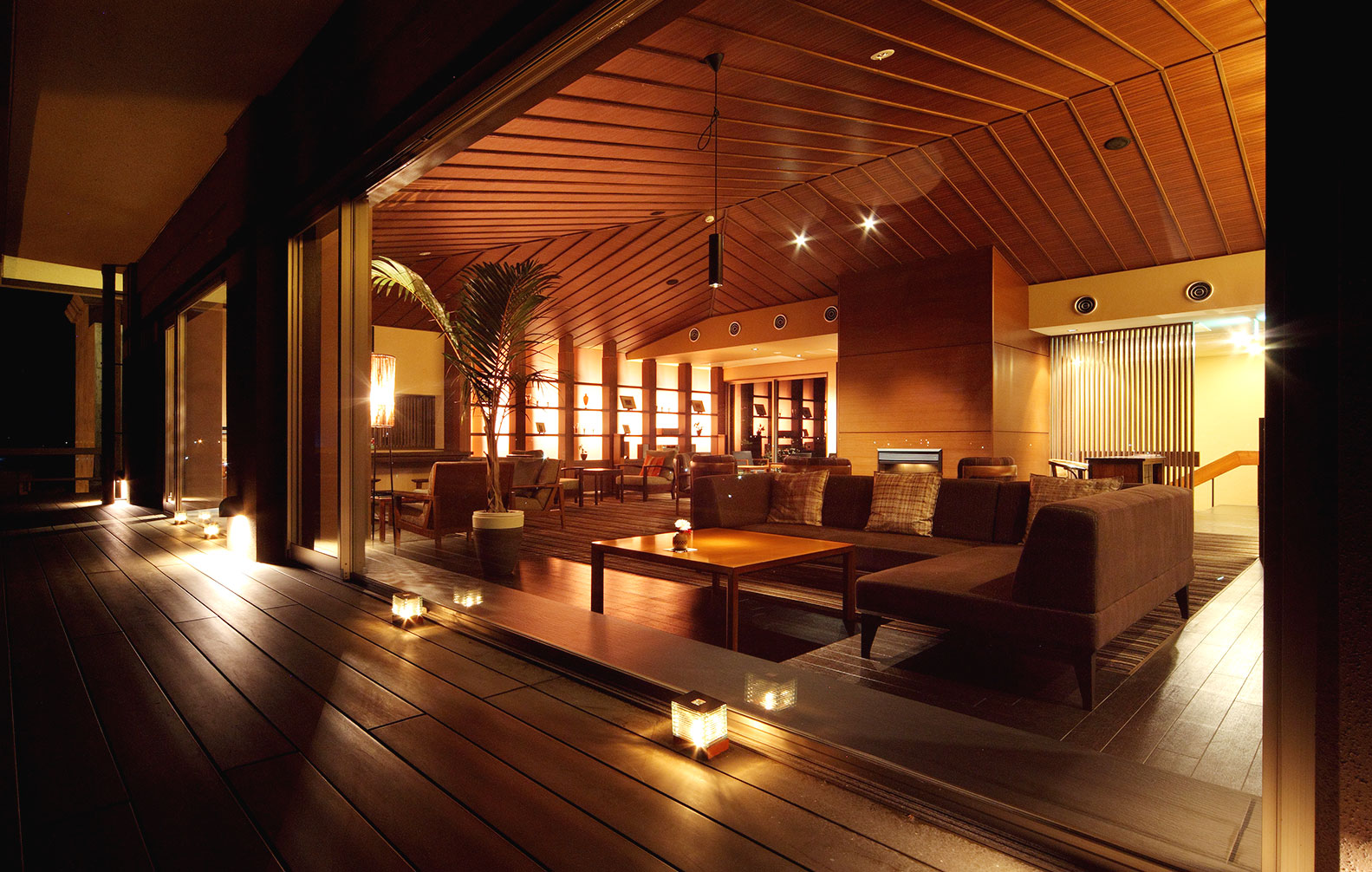 Shogetsu Terrace 3F
Garden Lounge
The Garden Lounge is available for all our guests to use as a place to relax and take a break. Peruse a book from our library or unwind in a massage chair, and use our internet-accessible computer. For gatherings or other events, guests may reserve our Club Room. The terrace off the Garden Lounge has a wonderful view of Sanuki Fuji and Kotohira town, and also overlooks the Japanese garden as well as Mount Kotohira (Zozu), which is designated as a National Park. Tsukimidai, an invigorating foot bath, is also on the terrace; it is the perfect place to gaze at the full moon on a summer night. Full drink service is available in the Garden Lounge, with coffee, tea, and soft drinks; at night, enjoy beer, wine, and cocktails with cheese and snacks during our bar time (prices vary).
Hours
2pm~12am
*Bar time(9pm~12am)
*The Garden Lounge is available for all guests.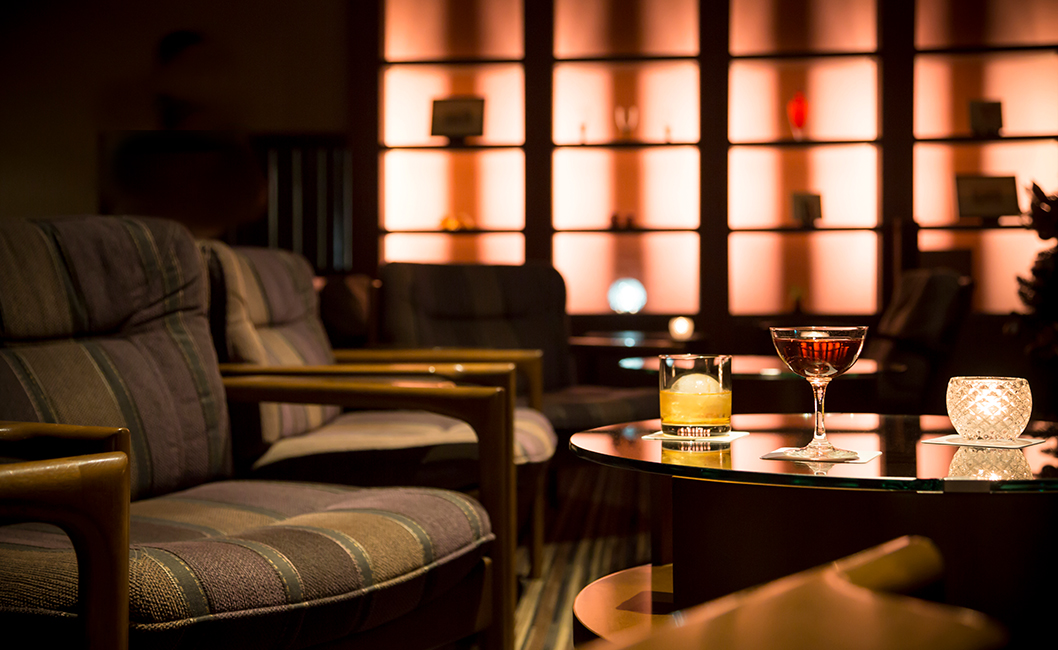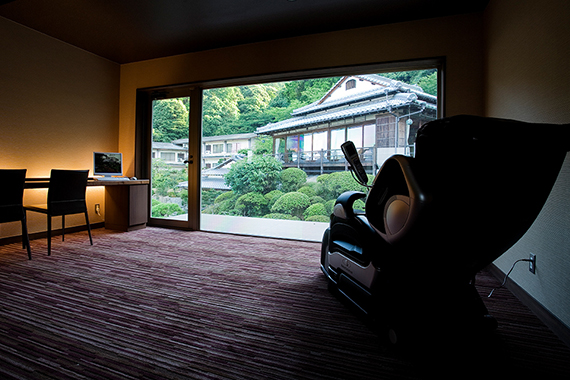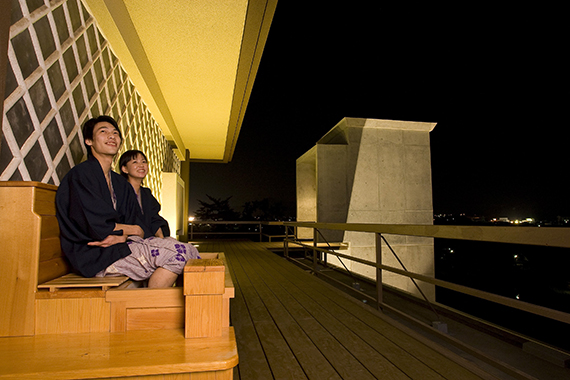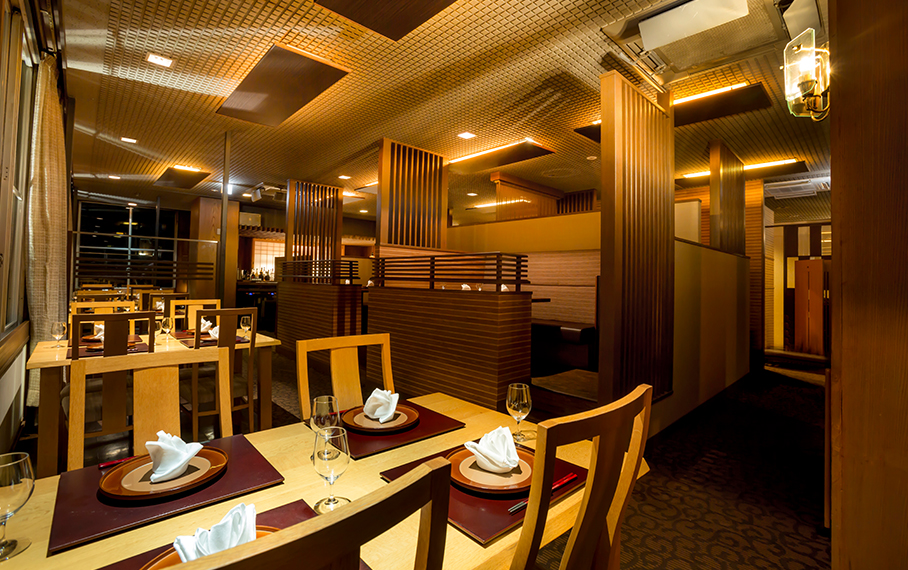 Shogetsu Terrace 2F
Main Dining Keyaki
Enjoy dinner in our casual in-house restaurant, Dining Keyaki. We offer several seating arrangements, from counter seats overlooking our garden to tables, and even private rooms.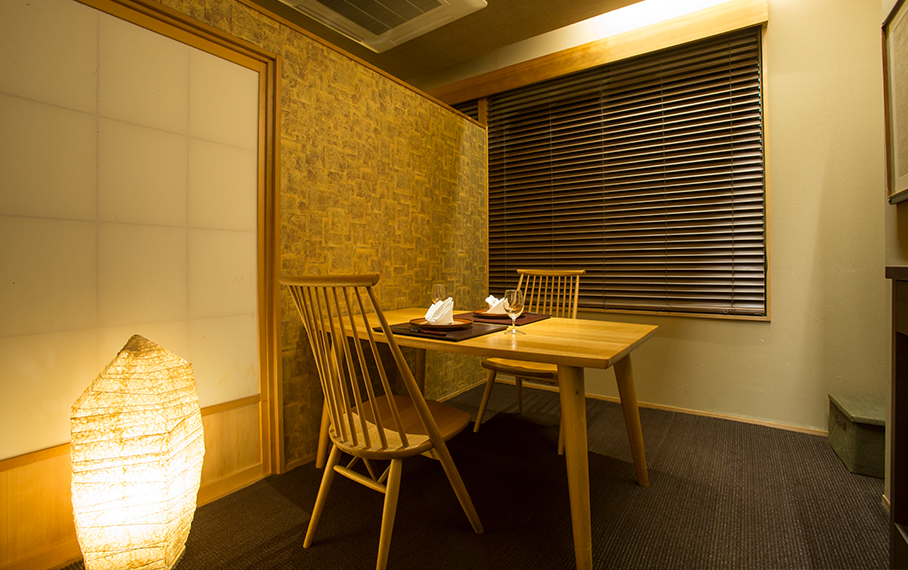 Fujimidai 4F
Partial Dining Shoho
Partial Dining Shoho offers semi-private spaces for dinner. Groups of two staying in Fujimidai can enjoy meals here.
Shogetsu Terrace 1F
Recreation Booth
Located on the first floor of Shogetsu Terrace, the Recreation Booth area offers various amusements for on-site entertainment. Karaoke, table tennis, and mah-jongg are available. Please inquire at the front if interested in using the Recreation Booth.
Hours
3pm~12am
Pricing
(Karaoke) 1 hour/3,190 yen
(Table Tennis) 30 min./550 yen
(Mah-jongg board game) 1,650 yen
*Pricing includes tax.
Shogetsu Terrace 2F
Sansuikaku 1F
Banquet Space
Both Shogetsu Terrace and Sansuikaku have large spaces for banquets and other gatherings.
| | |
| --- | --- |
| Shogetsu Terrace 2F | Tennyo/Hagoromo (85 tatami mats, can be split in half) |
| Sansuikaku 1F | Manyo/Ocho/Juko (90 tatami mats, can be split into three spaces) |
FLOOR MAP
SUKIYA-STYLE COTTAGES, FUJIMIDAI, SHOGETSU TERRACE, SANSUIKAKU
Kotohira Kadan has evolved over the years to adapt to its natural mountain surroundings and to preserve its treasured garden. Shogetsu Terrace and Fujimidai are connected by a corridoor on their third floors, making travel between the two facilities easy. Guests staying in Sansuikaku must cross the garden to use the onsen spa and main dining area. The garden path is uneven, so please take care when crossing between buildings.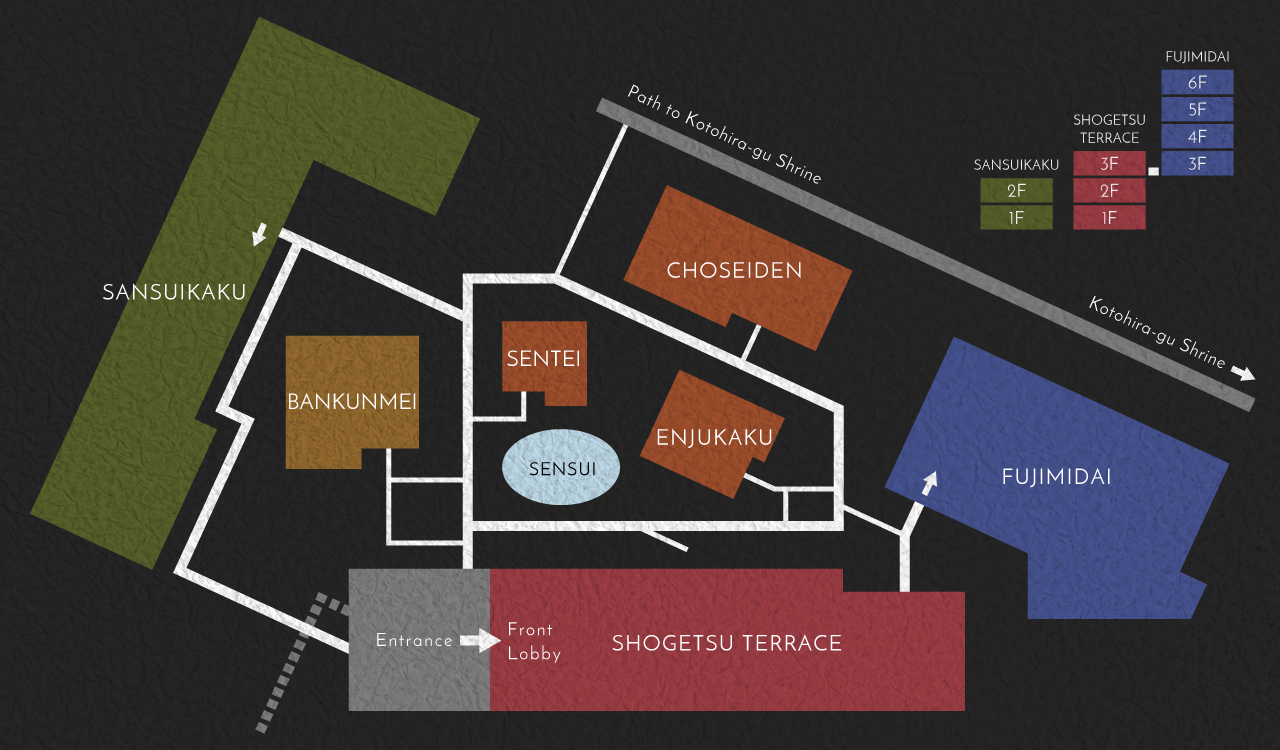 GENERAL INFORMATION
KOTOHIRA KADAN
Location
Kotohira Kadan
766-0001 Kagawa-ken Nakatado-gun
Kotohira-cho 1241-5
General Information
Shogetsu Terrace


[3F] Guest Rooms (two twin rooms, one barrier free twin room, one triple room)
Garden Lounge (bar/library/massage chair/computer with internet access)
Foot bath "Tsukimidai", Private Open-air bath "Nagomi Yu"

[2F] Main Dining Keyaki, Banquet Space (tennyo, hagorom)

[1F] Front, Lobby with Terrace, Souvenir Shop, Recreation Booth (karaoke, table tennis, mah-jongg)

Fujimidai


[6F]Guest Rooms (one special japanese-western room, eight japanese rooms)

[5F]Guest Rooms (one special japanese-western room, eight japanese rooms)

[4F] Guest Rooms (one japanese-western room with open-air bath, four japanese rooms with open-air bath, three twin rooms with open-air bath)
Partial Dining Shoho

[3F] Onsen Spa Kissho no Yu (open-air bath, panorama bath, after-bath lounge and gallery)

Sansuikaku


[2F]Guest Rooms (three japanese-western rooms with open-air bath, four japanese rooms)
Private Open-air bath Mori no Yu

[1F]Guest Rooms (two japanese rooms)
Banquet Space (manyo, ocho, juko)

Garden


Guest Rooms (choseiden, enjukaku, sentei)

Spa (Traditional Thai Massage Salon Bankunmei)

Guest Rooms
Total rooms: 42 rooms
Maximum occupancy: 197 person
Guest Room Amenities & Facilities
Facilities
Wi-fi, Shower toilet, Humidifying air cleaner, Phone, Plasma TV, Refrigerator (mini-bar), Electric kettle, Safe box, etc.

Amenities
Hand towel, Bath towel, Yukata, Shampoo, Conditioner, Body soap, Hand soap, Hair dryer, Hair brush, Toothbrush, Men's Amenities (Razor), Cotton swabs, etc.
*Please see room type detail pages for information on amenties and facilities.
Rental Items
Pillow (feather pillow, foam pillow, powder beads pillow, ergonomic pillow, character pillow), Nail clipper, Thermometer, First aid kit, Ice pack, Hot water bottle, Electric fan, Fan heater, Sewing set, Clothes iron & board, Pants press, Bluetooth speakers, Walking jacket, Walking shoes, Solar-powered light pole, Hair tonic, Water lotion, Extension cord, Power adapter, Cell phone/smartphone charger

[Children's Rental Items]
Bassinet seat, Bumbo seat, Diaper trash bin, Baby soap, Baby bath, Baby bath chair

*Each of these items are limited in number and subject to availability.
Internet
Free Wi-fi
Payment Methods
Cash, Electronic Cash (PayPay, Alipay)
Credit Card(VISA, JCB, American Express, Master, Diners Club, Unionpay)
Parking
Outdoor Parking (40 spaces, free of charge)
BARRIER-FREE
BARRIER-FREE INFORMATION

Available

Unavailable
| | |
| --- | --- |
| Parking | |
| On-site Surfaces (In front of building) | |
| Main entrances/exits | |
| Toilets | |
| Sign Guidance | |
| | |
| --- | --- |
| Up & Down Mobility | |
| Seating | |
| Accommodation Facilities | |
| Childcare Corner | |
| Other | |
Over 400 Years of History